I think we can say that summer is over, and the off-season is here.
How will the rest of 2022 play out, and what will be the effect on the 2023 Selling Season?
We know that the local NSDCC sales counts will be low for the rest of 2022. Last year we had 136 closings between August 1-15, and this year we've had 65.  If we keep having about half of the 2021 sales, then our total sales between August and December will be 594, or an average of 119 per month!
It could look something like this green line: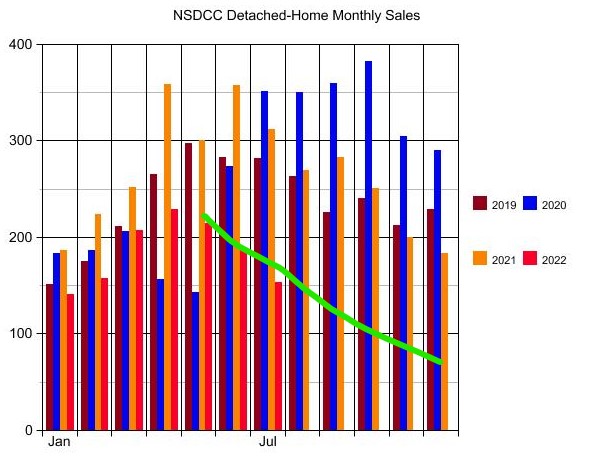 We will probably have fewer listings than ever in 2H22, but those sellers should be motivated to sell.  If they didn't need to sell, wouldn't they be tempted to just wait until spring to go on the open market?
We know that every seller has a load of equity, so if they have to lower their price to sell, they could.  But will they?  We can speculate that if they only had to lower their price by 5%, then they would make the deal. But going lower than 5% off is where the trouble starts – and the seller's ego gets a vote.
If sellers continue to hold out on price, and sales follow the green line, it will look like a hard landing – and the 2023 selling season could end up being a dud. It would definitely get off to a slower start, and could sputter through the selling season if the inventory is lackluster and priced at retail, or retail-plus.
How likely is that?  Very!
The second-half sellers of 2022 are going to determine our fate for the 2023 Selling Season. Expect next year's market to be somewhere in the Sputter-to-Frenzy range, guaranteed!
But if you are a buyer, what are you going to do? Wait until 2024?
Let's re-visit this in January. If sales beat the Green Line, then a more active market in spring is likely!
Here is Bill's graph of the national sales: