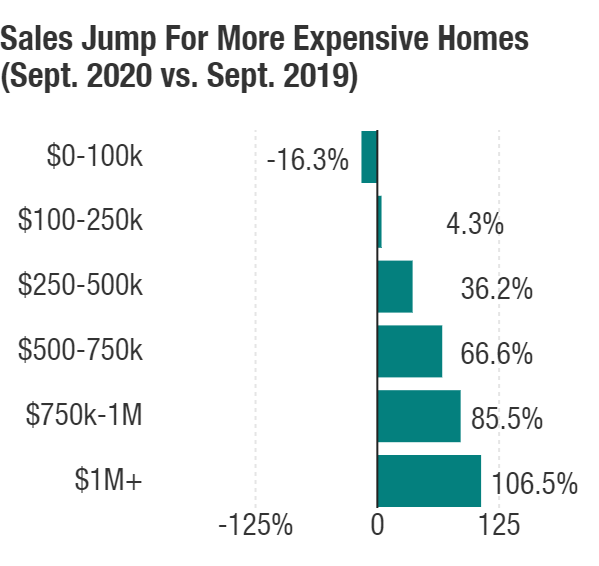 Ultra-low rates, record home equity, and societal needs/concerns make the perfect frenzy cocktail:
The pandemic is driving a major boom in the housing market that's breaking all kinds of records and exposing a very uneven economic recovery between the haves and the have-nots.
The most dramatic increases are happening at the top end of the market — sales of homes costing $1 million and up have more than doubled since last year.
Millions of people are working from home while juggling their kids' remote schooling. And many who can afford to are buying bigger houses.
Home sales in September were up more than 20% from a year ago, according to the National Association of Realtors. And median home prices hit a record $311,800. That's about $40,000 more than just a year ago.
"It is great news for homeowners as they are seeing equity rise and rise," says Lawrence Yun, the chief economist for the Realtors group. But he says prices are rising too fast. Generally, he says, economists like to see home prices climb in line with people's wages. But in recent years, home prices have been rising much more quickly.
"It will eventually lead to a choking point where first-time buyers simply can not show up to the market," Yun says. Already the percentage of first-time buyers is decreasing — they represent about 31% of the market. In a healthy market, they represent 35% to 40% of buyers, Yun says.
He worries that if the trend continues, the country will see a further "divergence in society where you have the haves, with homeownership gaining their equity, and those people who would like to become homeowners continually being frustrated, unable to reach that goal of owning a home."
Read full article here:
https://www.npr.org/sections/coronavirus-live-updates/2020/10/22/926657942/housing-boom-sales-of-million-dollar-homes-double