Did you get concerned about the pending index falling another 10% last week?
The U.S. housing market is suffering from its lowest supply in history, and that is taking an increasingly hard toll on sales.

Pending home sales, a measure of signed contracts on existing homes, fell a wider-than-expected 10.6% in February compared with January, according to the National Association of Realtors. Sales were 0.5% lower year over year.

"The demand for a home purchase is widespread, multiple offers are prevalent, and days-on-market are swift," said the Realtor's chief economist, Lawrence Yun. "But contracts are not clicking due to record-low inventory."
The pendings between La Jolla and Carlsbad are doing just fine. In spite of the total number of NSDCC homes for sale being fewer than usual, people are still buying at a torrid pace: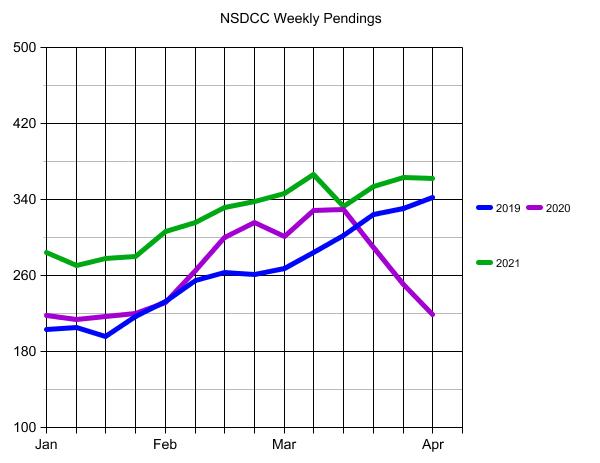 Our market was helped by having more homes for sale.
New NSDCC Listings in the First Quarter:
2019: 1,278
2020: 922
2021: 1,081
After the first two months of this year, the total number of NSDCC new listings was 26% behind 2019.
But we had a big March, and the number of new listings in 1Q21 is only 15% behind those in 2019.
~~~~~~~~~~~~~~~~~~~~~~~~~~~~~~~~~~~~~~~~~~~~~~~