Yesterday, we saw that there has been a flurry of new pendings this month.
Could it be a result of brave buyers who have lowballed the sellers? We won't know until they close escrow. But there is a direct correlation between how long a home has been on the market, and the discount expected by the buyers.
Of the current pendings, 49% didn't lower their list price – and the median days on market for the whole group is 17 days. If the price is attractive, buyers will step up in the first two weeks and pay it, or close.
But once a NSDCC home is on the market for more than a month, and it can be a slippery slope – mostly because the showings dry up.  Unless the sellers are willing to pour (more) money into upgrades, then the next best solution is to lower the price – but once you start lowering, it invites the lowballers. Yes, there were a handful that still went pending without reducing, but those were mostly the high-enders: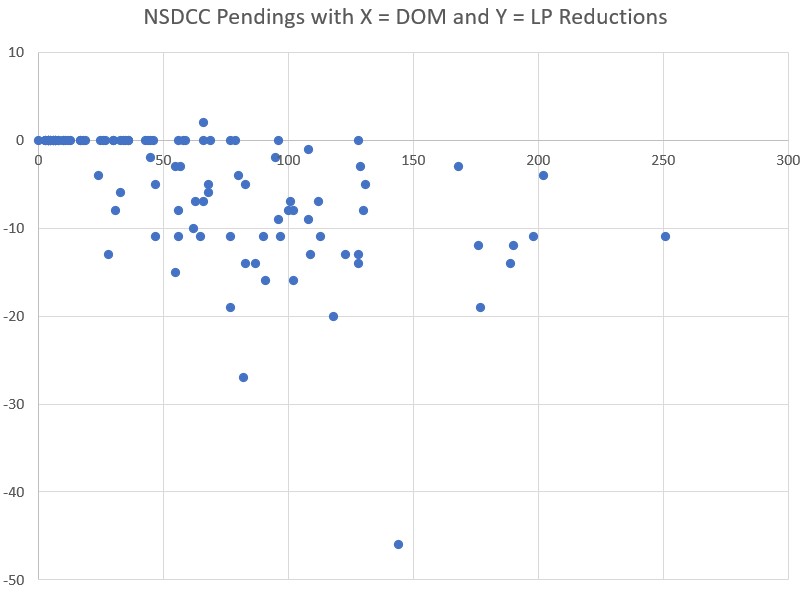 You see realtors advertising today to sellers that they need to price their home 'right'.  It's a bit insulting, if you ask me, because it means they want you to price it at their price, not yours.
An attractive price is more than just money – it sums up the whole package (location, floor plan, condition, ease of showing, and listing agent competence) and causes the buyers to say, "Hey, that's a nice deal!"