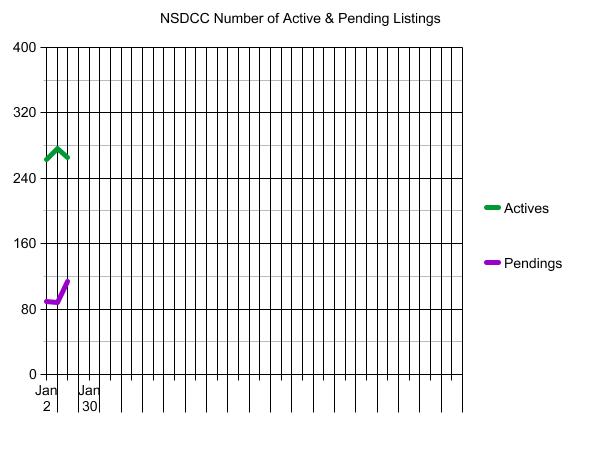 A fantastic start to the new year!
In the last week, there were 36 new listings and 34 new pendings! In the previous week, we also had 36 new listings but only 15 new pendings.
The total pendings count increased +30% in a week!
In the Under-$3,000,000 market, there are 119 actives and 86 pendings, which looks remarkably healthy.
We are about halfway through January, and there have been 80 new listings so far between La Jolla and Carlsbad. It means our contest should wind up around 160-170 listings.
The $0 – $1,500,000 Market:
| | | | | |
| --- | --- | --- | --- | --- |
| Date | NSDCC Active Listings | Avg. LP/sf | Avg. DOM | # of Pendings |
| Jan 2, 2023 | 22 | $719/sf | 75 | 15 |
| Jan 9 | 26 | $687/sf | 50 | 14 |
| Jan 16 | 23 | $701/sf | 52 | 20 |
The $1,500,000 – $2,000,000 Market:
| | | | | |
| --- | --- | --- | --- | --- |
| Date | NSDCC Active Listings | Avg. LP/sf | Avg. DOM | # of Pendings |
| Jan 2, 2023 | 45 | $809/sf | 60 | 18 |
| Jan 9 | 55 | $828/sf | 53 | 19 |
| Jan 16 | 46 | $838/sf | 53 | 30 |
The $2,000,000 – $3,000,000 Market:
| | | | | |
| --- | --- | --- | --- | --- |
| Date | NSDCC Active Listings | Avg. LP/sf | Avg. DOM | # of Pendings |
| Jan 2, 2023 | 52 | $869/sf | 69 | 30 |
| Jan 9 | 57 | $940/sf | 66 | 31 |
| Jan 16 | 50 | $948/sf | 61 | 36 |
The $3,000,000 – $4,000,000 Market:
| | | | | |
| --- | --- | --- | --- | --- |
| Date | NSDCC Active Listings | Avg. LP/sf | Avg. DOM | # of Pendings |
| Jan 2, 2023 | 29 | $1,236/sf | 85 | 6 |
| Jan 9 | 29 | $1,180/sf | 80 | 5 |
| Jan 16 | 31 | $1,196/sf | 73 | 8 |
The $4,000,000+ Market:
| | | | | |
| --- | --- | --- | --- | --- |
| Date | NSDCC Active Listings | Avg. LP/sf | Avg. DOM | # of Pendings |
| Jan 2, 2023 | 121 | $1,744/sf | 126 | 21 |
| Jan 9 | 119 | $1,716/sf | 123 | 20 |
| Jan 16 | 120 | $1,761/sf | 121 | 26 |
NSDCC Weekly New Listings and New Pendings
| | | | | |
| --- | --- | --- | --- | --- |
| Week | New Listings | New Pendings | Total Actives | Total Pendings |
| Jan 2, 2023 | 11 | 6 | 263 | 89 |
| Jan 9 | 36 | 15 | 277 | 88 |
| Jan 16 | 36 | 34 | 266 | 114 |
For previous years, click here: