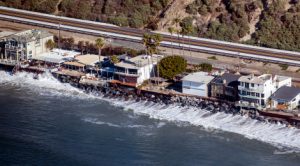 Thanks to the OCR for this article – link at bottom:
Sounding the latest alarm over the devastating impacts sea level rise is expected to have on the California coast, a new report from the state Legislative Analyst's Office details the critical need for action over the next decade and notes that most preparations so far are only in beginning stages.
Between $8 billion and $10 billion of existing property will be underwater by 2050 and another $6 billion to $10 billion will be at risk at high tide, according to a study cited in the report.
"The certainty of rising seas poses a serious and costly threat," according to the Legislative Analyst's Office, a nonpartisan governmental agency that provides policy advice to the state Legislature.
For every dollar spent preparing in advance of disasters, $6 in post-disaster losses are avoided, according to a federal study cited by the Legislative Analyst's Office. With the state estimating a half-foot or more of sea level rise by 2030 — and as much as 7 feet by 2100 — the report says it's crucial to take extensive measures over the next 10 years or so.