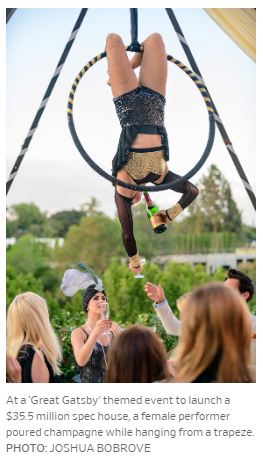 Today, there are 42 homes for sale in SD County listed over $10,000,000, and we've had two sales this year. Hat tip to GW for sending in this article excerpted here:
Real-estate experts estimate that there are about 50 ultra high-end spec houses under construction in the area, from Beverly Hills to Bel-Air and Brentwood.
The unprecedented wave of development has its roots in the heady days of 2014 and 2015, when foreign buyers poured into Los Angeles and luxury markets across the country logged record sales. A couple of local megawatt deals—including the $70 million sale of a Beverly Hills compound to billionaire Minecraft creator Markus Persson in 2014—inspired the construction of bigger and pricier homes, most of which were built as contemporary cubes. Some were built by inexperienced developers; many had price tags north of $20 million.
Now, there are simply too many, and not enough buyers to go around. "It's created its own monster," says Stephen Shapiro of Westside Estate Agency. "We have an enormous oversupply of these white boxes. There's years of inventory out there."
In this environment, and amid signs that prices are falling, developers and their agents are going to extraordinary lengths to differentiate their listings from the pack. They are throwing themed bashes in lieu of traditional open houses, thinking up gimmicky new amenities and hiring marketing experts to reimagine homes as individual brands with their own names, logos and stories. Some developers are relisting plots of land, hoping to get their money out without sinking more money into construction.
In February, Mr. Niami threw an elaborate party inspired by Dutch artist Hieronymus Bosch's painting "The Garden of Earthly Delights" in a home he is listing for $39.995 million. Its three levels were organized into heaven, earth and hell, and models in colorful tulle dresses swam in the property's glass bottomed pool, said Mr. Ali, who organized the party.
There were actors posing as Adam and Eve while hosting a virtual reality game that allowed guests to enter a rendition of the Bosch painting. People drank whiskey infused with the body of a dead cobra, and dancing women dressed in leather, whips and chains. A camel stood at the entrance to greet guests.
In Bel-Air, real-estate brokerage firm the Agency recently threw a "Great Gatsby" themed event to launch a $35.5 million spec house. A female performer in a bedazzled costume hung upside down from a trapeze to pour champagne for guests, while another floated on the pool in a transparent bubble.
Mr. Ali says developers will pay anywhere from $20,000 to hundreds of thousands to throw such events.
In addition to the parties, developers are always on the hunt for creative new amenities. "It's about the wow factor," says spec home developer Ramtin Ray Nosrati, whose under-construction mansion in Brentwood includes a secret room for growing and smoking marijuana.
The ventilated room, accessed by hitting a button hidden inside a living room bookcase, will have tinted windows that darken for privacy. The house, slated to ask between $30 million and $40 million, will also come with a budget for an employee to supervise growing and harvesting. Mr. Nosrati compared the amenity to "having your own vineyard."
Despite all this, price cuts are the order of the day. Bruce Makowsky, a handbag designer-turned-developer who sold the Minecraft property, lowered the price of his latest project, a lavish Bel-Air house with a candy room and a helipad, to $150 million, down from its original $250 million asking price. Mr. Niami slashed the price of a sprawling 20,500-square-foot house known as Opus to $59.995 million, down from $100 million.
Developer Ario Fakheri has chopped the asking price for his Hollywood Hills home with a roughly 300-gallon indoor shark tank to $26.995 million from $35 million.
Sales are still happening: Approximately 11 deals have closed for more than $20 million in Los Angeles so far this year, and a Saudi buyer recently paid $45 million for a spec home built by diamond manufacturer Rafael Zakaria. But buyers know they have the upper hand. "People are making lowball offers," says Mr. Shapiro of Westside Estate Agency. "They're not being shy."
Doug Barnes, the founder of Eyemart Express, sold a contemporary home in Beverly Hills for $34.65 million in April, or nearly 40% off its original $55 million asking price, records show. British restaurateur and Soho House co-owner Richard Caring is listing a home he bought in Beverly Hills for $29.995 million; he paid $33 million for it in 2016, records show.
As for "The One," the $500 million property was originally slated to come on the market in 2017 but has yet to be listed. The developer blamed construction delays.
Link to Full WSJ Article
A sample: