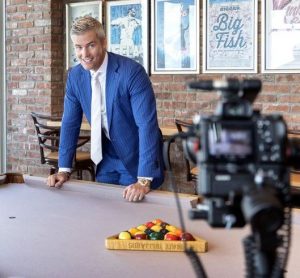 Here's what it will take to be a successful realtor from now on – hat tip WSJ!
"It's an attention game. It's not who has the better postcards, it's about who can attract the most eyeballs," Mr. Serhant said. "I can walk into an appointment with a seller and say 'there are 30,000 active real-estate agents in the city, there's hundreds and thousands of us all over the world, but I have a level of exposure you can't buy.' "
Mr. Serhant has decided that it's time to cash in on his name recognition. After more than a decade at the brokerage Nest Seekers International, he is starting his own company, which will be known as "Serhant." The new firm will have its own film studio, digital-marketing lab and a tech team dedicated to tracking the reach of the brand and its content across the web. Mr. Serhant said he decided to launch his company now because he believes "the traditional real-estate brokerage model is broken."
"The brokerage company, open houses, and pretty photos don't sell homes today the way they did 10 and 20 years ago," he said. "Buyers of high-end real estate, and their children, go to YouTube and social media on their phones to research homes and agents now. I was already doing things differently from everyone else and it has been working incredibly well so I thought why not do it differently and build a firm from the ground up?"
Eddie Shapiro, Nest Seekers International founder and chief executive, noted that Mr. Serhant is not cutting ties with the company entirely. He will close out the business he signed at Nest Seekers, including his listings and new developments. Mr. Shapiro said that the company's agents are now involved with a new reality real-estate show on Netflix called "Million Dollar Beach House."
Mr. Serhant's new business will crank out social-media content and multiple, dedicated short-form series for its YouTube channel, "Listed by Serhant," based around his agents and listings. One series, provisionally called "3 in a Million," will invite regular people into three listings and ask them to guess the price. Another, called "Meals in Mansions," will be hosted by an agent at the firm who enjoys cooking and who will make meals in the kitchens of the firm's high-end home listings.
Mr. Serhant, whose YouTube channel has one million subscribers, already produces his own YouTube videos weekly, putting together a mix of listing reveals, personal day-in-the-life style vlogs that showcase his family and personal life and business advice tutorials with titles like "How to OVERCOME self-doubt" and "How to SUCCEED in a VOLATILE market." While these videos don't directly sell his listings, Mr. Serhant said, they help him build a global following, which, in turn, gives his listings better exposure.
These tactics aren't for everyone and some competitors snipe that Mr. Serhant is more interested in being famous himself than dedicating his time to his clients. Others said these stunts are more likely to attract voyeurs than actually result in deals, since ultrahigh-net-worth buyers aren't likely to be shopping for multimillion-dollar properties on Instagram.
But Mr. Serhant argues that the numbers prove out his concept: His team at Nest Seekers did $1.4 billion in closed and in-contract sales last year, mostly in New York and in the Hamptons, making him one of the most successful agents in the country. He estimates that since he started in the business, he and his team have sold over $4 billion in property. Last year, they sold a $40 million house in Bridgehampton to a prominent executive who reached out to Mr. Serhant after finding him on YouTube, he said.
"If a listing video gets 10,000 views or a million views, that's a big difference," he said. "I tell clients, 'I work incredibly hard to grow my brand for your benefit so I can put your listing in front of more eyeballs than anyone else in the business.' "
Mr. Serhant said many of his wealthy clients have secret accounts on Instagram that aren't registered in their real names. One former client, so privacy-obsessed that his chauffeur-driven car had blacked-out windows, had an Instagram account and mentioned several of the properties he'd seen on Mr. Serhant's account.
"Instagram isn't a joke now," Mr. Serhant said. "People will go to your Instagram to see who you are as a person before they pick up the phone. You don't need a business card, you need a powerful social-media profile."