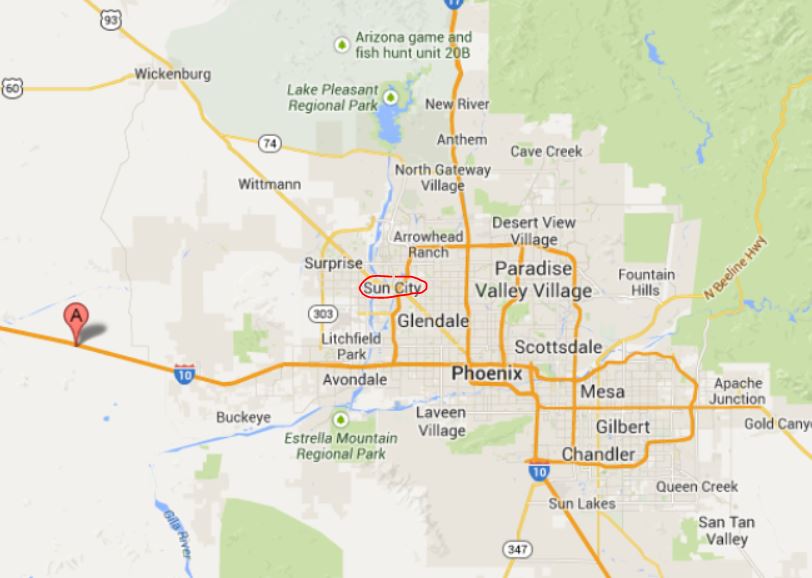 This is a fantastic idea for retirees who don't need to worry about traveling to work every day – a futuristic city out in the boondocks!  Sun City in Phoenix was the first 55+ retirement community built in the country, and when in opened in 1960, it was way out of town at 99th Ave.
Bill Gates wants to build at the A on the map – which is 339th Avenue!  But he is proposing more than a retirement community – this plan is for the 'smart city' of the future.
Bill Gates is building a "smart city" in Arizona which will feature driverless cars and "cutting-edge" technology.
Belmont Partners, one of the Microsoft founder's investment firms, has spent $80m (£61.1m) on buying and developing the new community near Tonopah, west of Phoenix.
Mr Gates' goal is to create a smart city called Belmont on the nearly 25,000 acres of land.
Everything about Belmont will be "forward-thinking", the company said in a statement.  A total 3,800 acres will be dedicated to office, commercial and retail space.  Another 470 acres will be used for public schools, and homes will be built on 80,000 acres of the land.
Arizona, which neighbors California, home to tech hub Silicon Valley, has long been trying to become the go-to place for innovative technology companies.
Mr Gates' decision to build his new city in Arizona will be a major boost for the state which has lifted many rules on self-driving vehicles to become a tech hub.