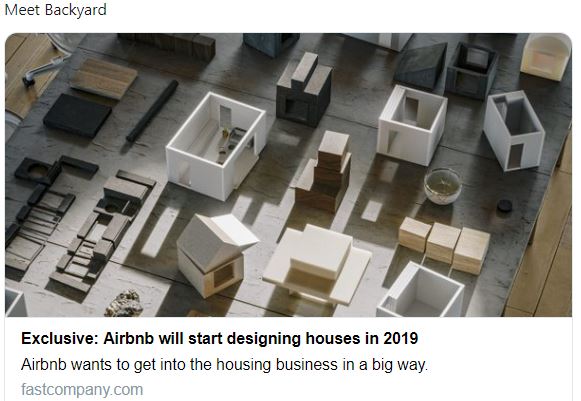 If baby boomers have to sell their home because they need the money, this will be a great alternative – and could help to dry up the housing inventory, especially if you can build an ADU for less than $50,000.  Homes with bigger yards would be more valuable too.
Link to Article
Today, Samara is announcing a new initiative called Backyard, "an endeavor to design and prototype new ways of building and sharing homes," according to a press statement, with the first wave of test units going public in 2019.
It means Airbnb is planning to distribute prototype buildings next year.
The name "Backyard" might imply that Airbnb just wants to build Accessory Dwelling Units (ADUs), those small cottages that sit behind large suburban houses and are often rented on Airbnb. Gebbia clarifies that is not the case. "The project was born in a studio near Airbnb headquarters," he says in an interview over email. "We always felt as if we were in Airbnb's backyard–physically and conceptually–and started referring to the project as such."
Backyard is poised to be much larger than ADUs, in Gebbia's telling. Yes, small prefabricated dwellings could be in the roadmap, but so are green building materials, standalone houses, and multi-unit complexes. Think of Backyard as both a producer and a marketplace for selling major aspects of the home, in any shape it might come in.