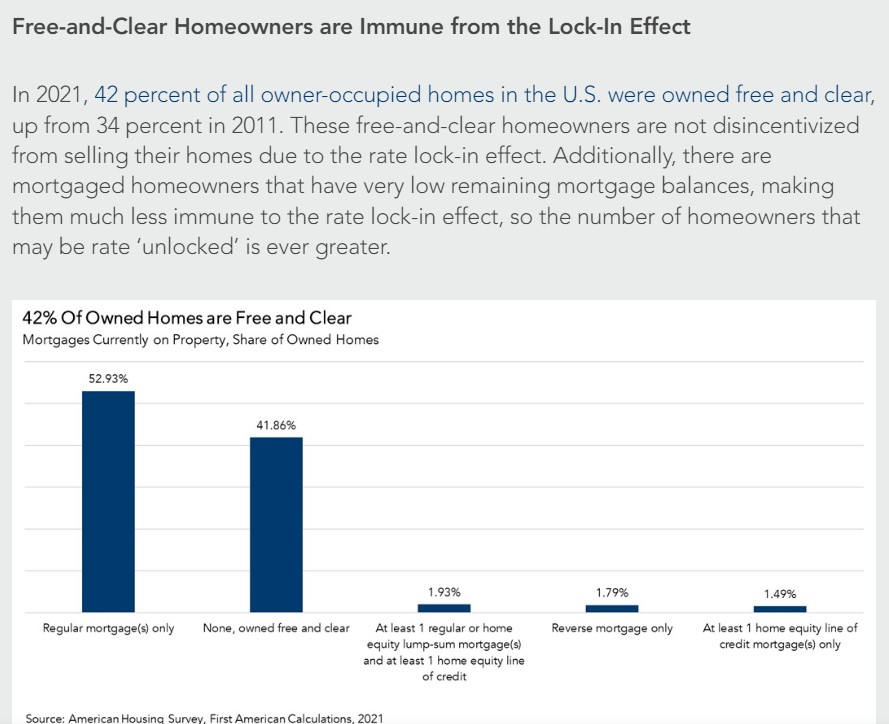 How bad could it get? What else could happen?
The market could deteriorate into a cash-only environment, where the buyers and sellers who can avoid mortgages altogether are the only players left.  If mortgage rates get into the 7s and 8s, the temptation for financed buyers and sellers to wait it out will be overwhelming.
Sellers who are downsizing/leaving town are home buyers who won't care much about mortgage rates because the only way it makes sense for them to move is to pay cash for their next home. Especially those who are older.
There are plenty in this category, thankfully!
From FATCO:
Of those who owned their home free and clear, nearly 78 percent were owned by homeowners aged 55 or older. Not surprisingly, older homeowners are more likely to own their homes free and clear. As the Baby Boomer generation, which is larger than any generation before it, has aged, the share of homes owned free and clear has increased. This gives some hope that while many existing homeowners remain rate locked-in, there is a large cohort of older homeowners who are not. However, older households are typically less likely to move than younger ones, which is especially true as seniors today increasingly age in place. So, while some portion of the free-and-clear inventory will come to market in the next decade, it will likely trickle in slowly.
Free-and-Clear Homeowners May Hold the Key
As demand for homes starts to inch up as we approach spring home-buying season, a key question is, will there be more inventory for those potential home buyers to buy? Existing-home inventory makes up the bulk of available home inventory, and many existing homeowners refinanced into sub-3 percent mortgage rates over the course of the pandemic. But there's a large group of homeowners who are not deterred by higher mortgage rates—those without a mortgage on their existing home or those with a small remaining balance. These homeowners may hold the key to unlocking more supply and, in turn, more home sales.
https://blog.firstam.com/economics/why-free-and-clear-homeowners-hold-the-key-to-unlocking-more-housing-supply
Local sales recently have been purchased all-cash about a third of the time. As sales drop further, the percentage of all-cash sales should end up at half or more of the total sales – and help to provide a floor.