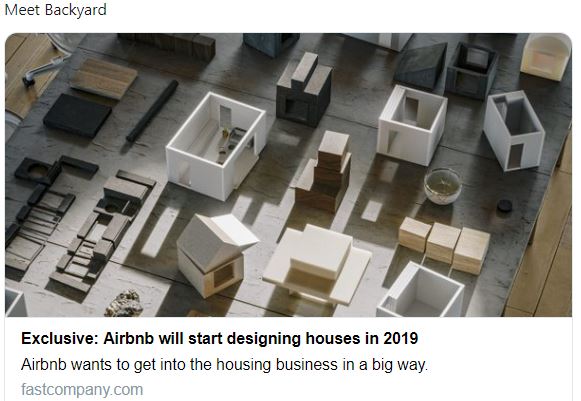 If baby boomers have to sell their home because they need the money, this will be a great alternative – and could help to dry up the housing inventory, especially if you can build an ADU for less than $50,000.  Homes with bigger yards would be more valuable too.
Link to Article
Today, Samara is announcing a new initiative called Backyard, "an endeavor to design and prototype new ways of building and sharing homes," according to a press statement, with the first wave of test units going public in 2019.
It means Airbnb is planning to distribute prototype buildings next year.
The name "Backyard" might imply that Airbnb just wants to build Accessory Dwelling Units (ADUs), those small cottages that sit behind large suburban houses and are often rented on Airbnb. Gebbia clarifies that is not the case. "The project was born in a studio near Airbnb headquarters," he says in an interview over email. "We always felt as if we were in Airbnb's backyard–physically and conceptually–and started referring to the project as such."
Backyard is poised to be much larger than ADUs, in Gebbia's telling. Yes, small prefabricated dwellings could be in the roadmap, but so are green building materials, standalone houses, and multi-unit complexes. Think of Backyard as both a producer and a marketplace for selling major aspects of the home, in any shape it might come in.
"Backyard investigates how buildings could utilize sophisticated manufacturing techniques, smart-home technologies, and gains vast insight from the Airbnb community to thoughtfully respond to changing owner or occupant needs over time," Gebbia says. "Backyard isn't a house, it's an initiative to rethink the home. Homes are complex, and we're taking a broad approach–not just designing one thing, but a system that can do many things."
Airbnb didn't share many specifics about what it'll release next year, but my conversation with Gebbia, in addition to some of Fast Company's previous coverage of Airbnb's futures lab, offer some hints.
The spaces will be designed to be shared, from the ground up. What exactly that looks like remains to be seen, but the suggestion is clear: They will be optimal Airbnb rentals to anyone who is interested in hosting, or perhaps even investing in the big business of backyard cottages.
They will also be adaptable. That doesn't just mean adding a few guest bedrooms and an extra bath to rent out. It means creating spaces that evolve and even reconfigure to the occupants' changing needs. We've seen this sort of approach in MIT's CityHome project (which later became the company Ori). Ori sells robotic furniture, such as walk-in closets that expand out of flat walls, and beds that can drop down from the ceiling on a whim. It's telling that Backyard's project lead, Fedor Novikov, has researched robotic construction for NASA.
The spaces may also support co-living, like at the Yoshino Cedar House. This was the first living space that Airbnb built. Designed by Japanese architect Go Hasegawa, it's a community center and rental property that Airbnb commissioned to spur tourism in the small town of Yoshino, Japan. The space is not only Dwell bait, with its austere cedar plank construction that sits beside a wide, idyllic stream; it also houses dozens of people under one roof in a grand co-living experiment. "I picture Western guests walking up, stepping inside, and you're interacting with the community from the minute you arrive. If you want to tour the sake factory, or the chopstick factory, or take a hike, the locals are right there," Gebbia told us in 2016. By March of 2018, the house had home welcomed 346 guests, and generated $25,000 in bookings along with an estimated $50,000 in local spending.
How much will a Backyard house cost, ballpark? "It's too early to say," Gebbia says. But based on both Gebbia's comments and the looks of Airbnb's  models–which appear to feature modular floor plans and interchangeable roofs–it seems likely that Backyard will be a housing system that can be tailored to particular contexts rather than one, perfect, prefabricated home. And you won't need to be an Airbnb host to buy into the initiative. "Backyard is about creating new options for people, whether they're Airbnb hosts or not. We're interested in making it easier for people to find new places to call home," Gebbia says.