The pandemic is still raging, the President of the United States is in the hospital, the election is right around the corner, and so are the holidays. The frenzy has to slow down at some point, doesn't it?
So I schedule for 11am, and show up to find today's list of showings taped to the front door: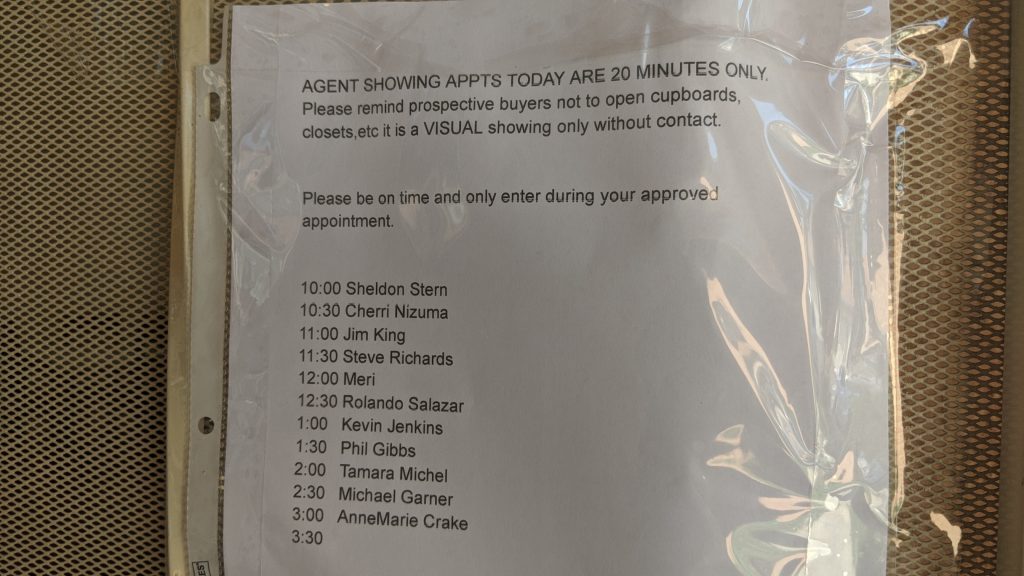 The listing agent happens to be there, so we discuss the current market conditions. She is a long-time independent broker like myself (who now also works @ Compass) and we agree that the environment is ripe to convert to single agency naturally, and buyer-agents being eliminated.
It's not because it's what best for everyone involved, because clearly it's not good for buyers and sellers – except maybe for those sellers who live in the house being barraged by showings the first few days on the market. It doesn't sound like much of a price to pay, but for homebodies, or those with little kids & pets, it can be a major inconvenience.
Zillow is the only entity who spends eight or nine figures per year on advertising, so they will control our destiny – and with them setting up brokerage units manned by employee-agents in all 50 states, you can get a feel for what's ahead.
In the meantime, consider these developments.
Today's listing agents are making it harder to show and sell their listings, they are lowering the buyer-agent commissions (and taking the difference), and some realtors are advertising guaranteed cash offers as the better way to sell your house.
As is the case throughout America, the truth doesn't matter nearly as much as how loud you can scream.
The greed displayed by these listing agents feeds upon itself, because other agents witness these practices happening without any reprimands, and they start to believe it's acceptable…..and then they do the same thing. The game is evolving into how to beat the buyer-agents out of their commission.
In the short-term, realtors can justify this revolution by pointing to the commercial brokers who have practiced their real estate like this all along. Heck, less competition will slow down the rapid price increases we are experiencing, and help to trim the over-population of realtors everywhere too….so you can say there are good things about it.
But it all plays into the hands of Zillow, and eventually they will be who processes your order.