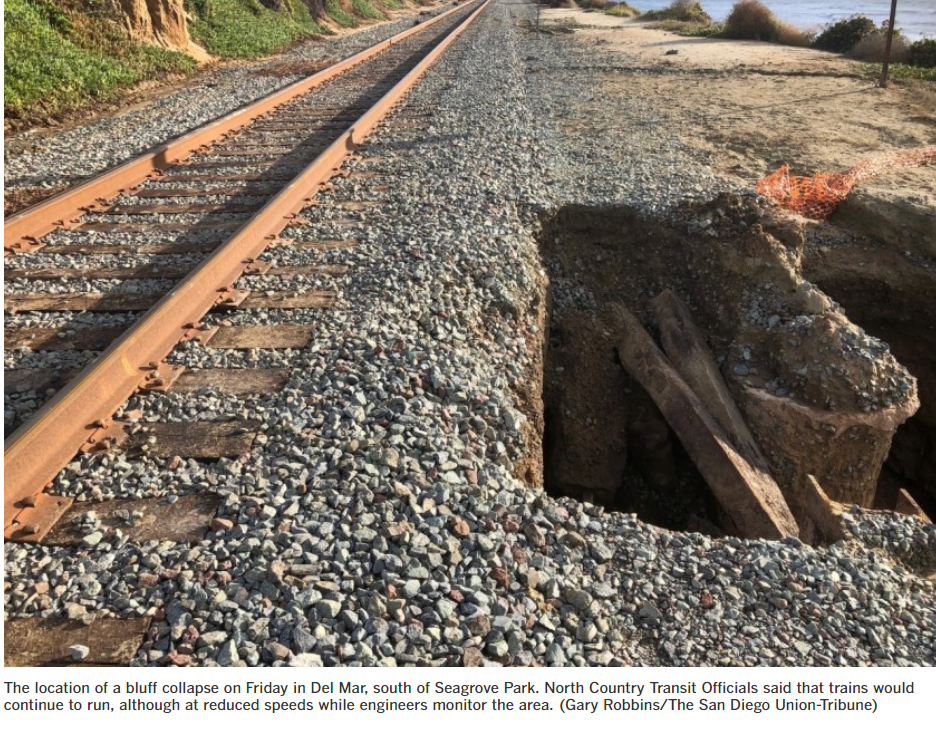 Link to UT article
The Coaster will be taking the day off to monitor the bluff collapse, but they plan to be running a regular schedule tomorrow.  From this angle, it looks like there might be a concrete foundation under the tracks – but is that enough for you to ride the train tomorrow?
The heavy rainstorms over the last 48 hours have caused a washout adjacent to the coastal railroad tracks along the Del Mar Bluffs just south of Coast Boulevard which support COASTER, Amtrak, and BNSF operations. At this time, all trains can safely operate at restricted speeds through the area based on site reviews and inspections conducted by railroad engineers. NCTD and its contractors will have personnel on-site monitoring trains as they pass through the area until repairs have been completed on the tracks.
In order to repair the washout area, NCTD will be closing the tracks south of Solana Beach train station and implementing bus replacement service beginning at 6:00 a.m. on Saturday, November 30, 2019.  
Following is detailed information about the operating plan for Saturday.
COASTER: COASTER trains will run a regular Saturday service schedule from Oceanside Transit Center to Solana Beach COASTER station. Passengers will be bus bridged between the Solana Beach train station and Santa Fe Depot. Northbound COASTER passengers who board the COASTER south of Solana Beach station will be bussed all the way to Oceanside Transit Center.  Passengers between Solana Beach station and Oceanside Transit Center going north will be served by the train per the regular schedule.
Amtrak Pacific Surfliner: Service and schedule changes will be in effect for Amtrak. Please visit PacificSurfliner.com or call 800-872-7245 for more information.
Regular scheduled train service will resume on Sunday, December 1 for both COASTER and Amtrak.
"Safety is NCTD's top priority," said NCTD Executive Director Matthew Tucker. "NCTD is committed to acting proactively to ensure that passenger and freight operations can be safely operated.  NCTD and the San Diego Association of Governments (SANDAG) are advancing phased improvements to make the Bluffs more resilient and prevent service impacts like this washout."