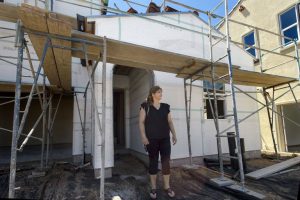 This story is about the same as Carlsbad folks moving to San Jacinto, where you can buy brand-new houses in the $300,000s.  But boomers want to stay within range of their kids and grandkids, so any boomer-flight could be muted.
Link to Full Article
If you're touring a model home this weekend in Sacramento, chances are the other couple over there, the ones checking out the quartz counters and sizing up the master closet, are not locals.
Emigres from the San Francisco Bay Area will comprise one-third of house hunters in the capital region this summer, real estate analysts predict.
Call it the coastal wave. It started a year ago, and it may be about to peak.
Bay Area residents are inundating Sacramento home developer websites, clicking through floor plans, watching promotional videos and signing up for email blasts, according to Kevin Carson of the New Home Company. His firm is building in El Dorado Hills, downtown Sacramento and Davis.
"I believe this summer, when the kids get out of school, we are going to see a real increase in Bay Area sales," he said. "We haven't really seen the wave hit yet."
Michael Strech, head of the North State Building Industry Association, said he's checked with other builders and guesses the one-third figure may be conservative at some new subdivisions.
The reasons are obvious: The median price of a Bay Area home hit $850,000 in April, according to CoreLogic, a real estate data company. That's a $100,000 increase in one year.
In San Francisco, the median price hit $1.3 million. That often buys no more than a 1,600-square-foot house.
In contrast, the April median sales price for a resale home in Sacramento County was $357,000. And the median for a new home was $433,000.
In an eye-opening Bay Area Council survey this month, 46 percent of Bay Area residents said they want to move out of the region within the next few years. They cite the high cost of living, high housing costs, traffic congestion and homelessness.
By comparison, Sacramento's sparkling new hillside subdivisions and moderately priced midtown condos are hot properties.
Retiree Marie Diaz, 59, of San Jose is among the emigres. She and her former spouse are selling their home for $2 million after a divorce.
Diaz said she found she can't afford another Bay Area house with her portion of the proceeds.
"Prices here are outrageous," she said. "I can't afford to live in this area. I'd be in an apartment."
She bought a home under construction in El Dorado Hills for $525,000. It has the same square footage as her old home, with an outdoor "California room" and a nearby community clubhouse where she will play bingo and bunco and do yoga.