The home-selling business is known for being the Wild, Wild West.
There are a few rules and ethics filed away in a drawer somewhere but there is no enforcement unless you do something really bad, like this guy – who only lost his real estate license a couple of months AFTER he was convicted and sentenced to three years in jail.
So when the Clear Cooperation Policy went into effect in May that stipulated an agent could input a listing into the MLS as 'Coming Soon', as long as they didn't show it to anyone until it was marked as an active listing, many of us scoffed.
But apparently for our local association, this is the hill to die on: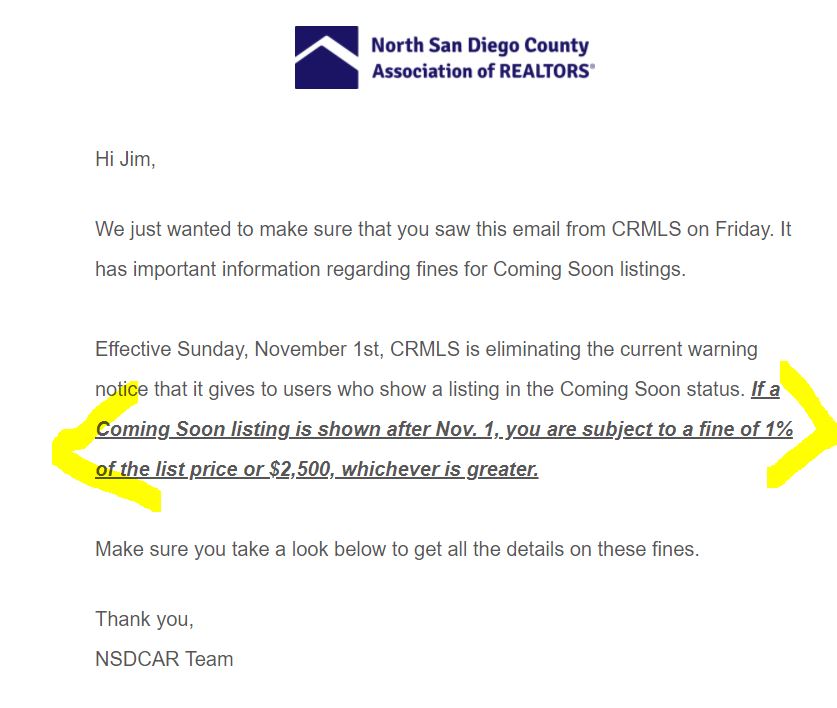 During the short-sale era, agents defrauded banks out of millions of dollars, and all the association did was to produce a video of realtors talking about how to do short sales properly.
Bidding wars are regularly abused by listing agents who tilt the table in favor of themselves or a favored realtor, and the association doesn't offer any solutions.
And the Clear Cooperation Policy still allows off-market listings to be sold within the same brokerage – and never offered to outside agents or the public.
There are plenty of more egregious violations of the consumers faith and trust, so why is the association selecting this rule to be the one to enforce, and issue heavy fines? They are dependent upon other agents ratting out the violators, so it's not like there will be a MLS police, but will they start enforcing any other rules – and issuing heavy fines – while they are at it?  The agents who get convicted of other violations only get a letter in their file for six months.
If agents want to show their Coming Soons, they can always join the San Diego Association of Realtors instead, where the fines are limited to $500. Or if the purpose of your Coming Soon is to test the market, just enter your new listing as Active instead and answer your phone for a couple of days and you will have ample evidence of how the market feels about it.
Here's another tepid response to an issue that bugs consumers and agents alike: