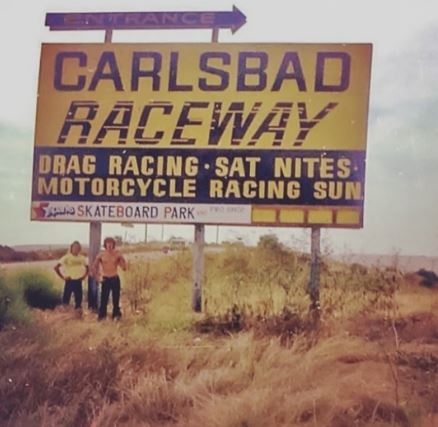 From the U-T archives:
On June 22, 1980, San Diegan Marty Moates became the first U.S. motorcyclist to win the U.S. Grand Prix of Motocross at Carlsbad Raceway.  Union sports writer Bill Center later called the 1980 U.S. Grand Prix of Motocross, "the most historically significant motorsports event ever held in San Diego."
Moates continued racing until 1984, when he joined with twin brothers Mark and Brian Simo, also racers, to create No Fear, the successful extreme sports gear manufacturer based in Carlsbad.
From The San Diego Union, Monday June 23, 1980:
It took a decade, but those daring young American motorcyclists have, finally, routed the entrenched Europeans from the ruts, jumps and ditches of Carlsbad Raceway.
And the hero was homegrown, 23-year-old San Diegan Marty Moates, who rode the torturous 1.3-mile Carlsbad circuit like no man in the nine previous events, riding off with the following firsts:
The first American to win the U.S. Grand Prix of Motocross
The first rider to win both Carlsbad motos
The first privateer rider (that is without factory backing) to win the U.S.G.P.
Motocross enthusiasts have a term for it — holeshot. That is when one rider has a bead on the pack at the start and buries, so to speak, the competition in his dust. "One-one, bullets," said another San Diegan and Moates' friend Marty Smith (fourth in the second moto and eighth overall). "Marty put on a show."