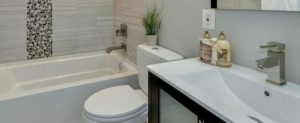 It may not be the grandest room in the house, but the bathroom is one of the most important when it comes to selling your home. Buyers want as many bathrooms as they can afford, and they want them pristine. So, if you're getting set to host an open house, it's time to spiff yours up! Here's exactly what you need to do to get it ready:
Clean everything. You know this already: There's nothing worse than walking into an open house and finding mildew, scum, hair (or worse) in and around the tub, toilet, and sink. Give your bathroom the kind of deep cleaning you'd usually reserve for when the in-laws visit. Ask yourself, "What would Martha Stewart think?" No rings around the tub, no soap scum on the shower door, no beard clippings in the sink. Use a mix of vinegar and water in a spray bottle to make mirrors sparkle—it's an old-school recipe that gets fabulous results (just remember to wipe away streaks with either newspaper or a microfiber towel).
Hide your toiletries. That means toothbrushes, contact lens kits, loose makeup containers, hairspray bottles—anything that could clutter up your countertop goes into the medicine cabinet, under the sink, or wherever it won't be seen.
Then put out nicer ones. Now is the time to break out those triple-milled imported soaps, or a nice handsoap and lotion duo. Think hotel bathroom.
Remove prescription drugs. We can't stress this one enough. If you have a medicine cabinet full of allergy meds, sleeping pills, or anything else your doctor may have prescribed, either lock it in a safe or take it with you when you leave during the open house.