I said on the Frenzy Cruise that I'd also recognize the NSDCC sales that closed well under their list price.  It's good for potential sellers to see how buyers will lowball homes that have been on the market for a while – and encouraging for buyers to know that they might be able to get a deal if they play the game wisely.
These are sales from November, with percentages off their original list price:

-17%

-14%

-23%

-19%

-15%

-10%

-23%

-10%

-16%

-32%
-16%

-20%

-11%

-15%

-15%

-13%

-26%

-17%

-23%

-12%

-20%

-14%

-13%

-29%

-19%

-16%

-22%

-12%

-14%

-14%

-18%

-28%
There have been 94 NSDCC closings in November (so far), and 34% have been discounted by a double-digit percentage off the original list price – which isn't too bad, given the negativity everywhere.  It happens at all price points too.
Two conclusions from the clusters in graph below:
Once a home has been on the market for 30-40 days, sellers are ready to deal.
Sellers who go beyond 100 days on the market are really taking a chance.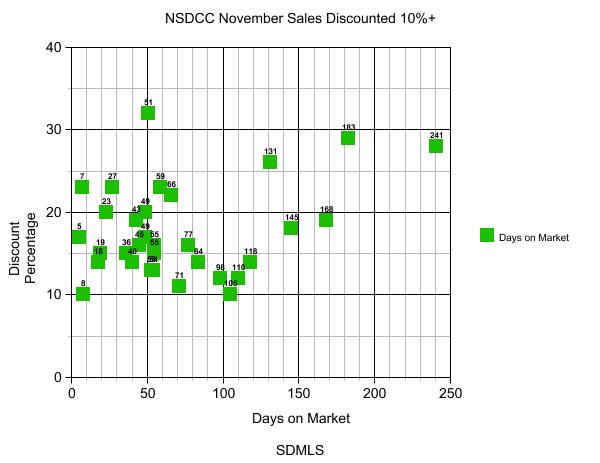 There were 13 of the 32 sales who 'refreshed' their listing, or had it on the market this year with a different agent – those DOM are not reflected here. There were quite a few at the -8% and -9% too.
Five of the 32 were round-tripped.
Because it is unethical to deliberately list a home for sale at an unrealistic price, it means that in a third of the cases, the listing agents just flat-out got the price wrong by a double-digit percentage.  Can you imagine if doctors, lawyers, stockbrokers, plumbers, or burger-flippers were wrong a third of the time?

Get Good Help!