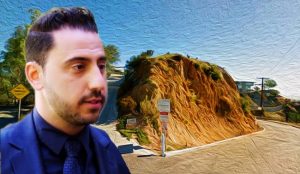 If he signed an agreement to represent both parties, he's got some explaining to do (H/T daytrip):
The owners of a historic Hollywood Hills home have sued "Million Dollar Listing" star agent Josh Altman for fraud and breach of contract for allegedly duping them into a deal to sell the home at a steep discount to one of his friends.
The sale never went through, but the homeowners, Gigi and Paul Shepherd, contend that Altman conspired with his friend, Nicholas Keros, with whom he has worked on previous real estate deals.
Keros filed his own lawsuit against the Shepherds, which the homeowners say has left them "hundreds of thousands of dollars" in debt and forced to declare bankruptcy, according to their suit, filed in LA County Superior Court last month.
Named as defendants are Altman and Douglas Elliman, where he is an agent. Keros is not a named defendant.
The Shepherds inherited the Richard Neutra-designed home on Sunset Plaza Drive from Gigi's aunt, Josephine, in the mid-2000s. It was was listed for $10.5 million last fall. The property is 1.2 acres and marketed as "a truly unique development opportunity."
They met with Altman to list the home early last year, and agreed that he would represent both parties if he was able to bring a seller to the table.
A few weeks later, Altman introduced Keros to the Shepherds as a potential buyer, but the suit claims he did not disclose Keros was a close friend.
Shortly after, Altman called the Shepherds and said Keros was a serious buyer, but would walk away if they didn't meet with him immediately. The Shepherds agreed and met without their lawyers present.
The Shepherds claim that during the meeting Altman "did absolutely no negotiations" on their behalf and instead "forced terms desired by [Keros]" on them. Altman and Keros presented the Shepherds with what they called a "draft" agreement that the couple continually "marked-up and revised" over the course of the meeting. Keros again said he would walk away if they didn't sign, so they did, the Shepherds claim in the suit.
The couple also claim Altman ignored their requests for copies of the documents and then altered the papers after securing their signatures. At that point, Altman and Keros contend the so-called draft documents were binding.
The Shepherds also signed a "contingency" document with Keros regarding an easement dispute the couple had with their neighbor. The couple say that Altman and Keros misrepresented that document, which Keros later used to sue them.
Altman did not return a request for comment. A spokesperson for Elliman said that the firm does not comment on pending litigation.
Representatives for the Shepherds could not be reached for comment.
Link to Article