There was additional distribution of my moving survey after the previous report last week.
Of the 2,872 visitors who have looked at the survey, 130 (or about 5%), at least answered a question, which is typical.  Here are the final results: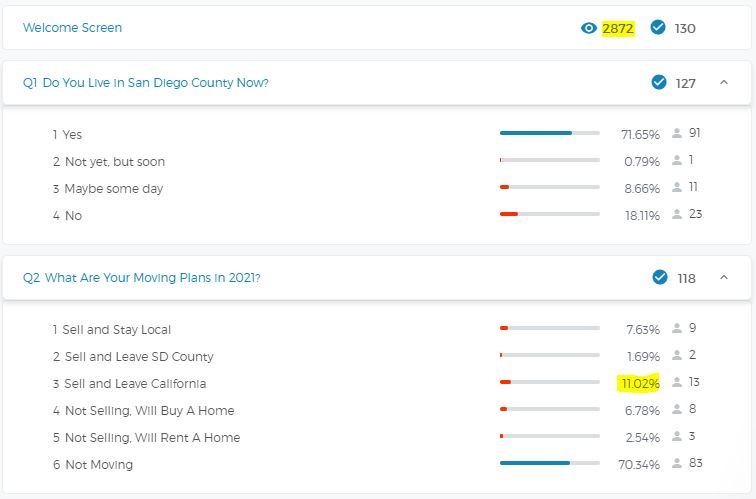 Q1. I liked that 28% of the respondents live outside of San Diego County. Thanks for playing!
Q2. Most people aren't planning to move (70.34%). But of those who are planning to move, MORE THAN ONE-THIRD ARE LEAVING CALIFORNIA!

Q4. The traditional April-Sept time frame was preferred by 60% of those planning to move. But 23% of those who are moving next year will jump right on it in the first quarter.

Q5. The pandemic didn't cause 92% to move, mostly because Covid-19 is temporary, and moving is permanent. People might think about moving because of Covid-19, but the pandemic won't drive the truck up to the house.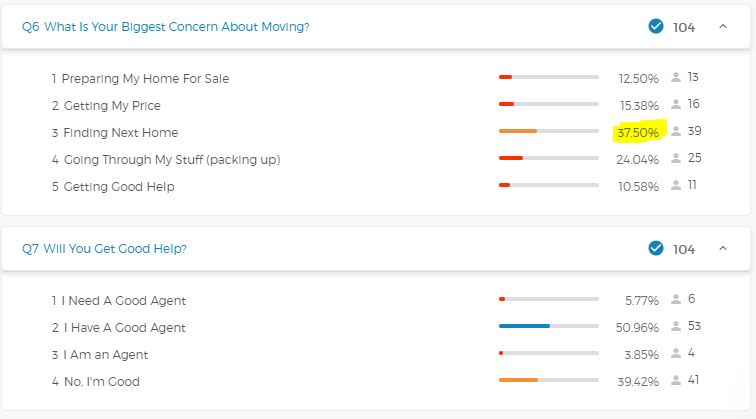 Q6. The answer of 'Getting My Price' bumped up nicely from its last-place finish previously.  Going Through My Stuff is still a big concern, but Finding Next Home is #1, and rightfully so.
Here are some of the anonymous comments left – thank you for the warm thoughts!
Jim, so sorry I'm late to the survey. I appreciated the results you've already shared. I own two properties in OC, (reside in one, rent one) and have been a home owner for 15+ years. I have read your blog for 10+ years, but only check it weekly, rather than daily. I enjoy your video tours, thoughts on home layout and thoughts on how to help increase the value of one's home. I like learning about the SD area and market through your blog. FYI, the biggest thing keeping my family in CA is our three school-aged children and an older parent who is nearby and will eventually need help. It's hard to uproot. My own parents, lifelong Californians, retired and left for Arizona two years ago and are very happy. Last year, my husband's job offered to relocated us to Utah. We seriously considered leaving, but eventually declined and he found another job internally at the same company so that we could stay where we are. When we thought of the pros and cons, we would very much miss the CA weather and strong ties to our community. We are thankful to live in a proudly red city in OC. We are not happy with the direction CA as a state is headed, but will stay for the sake of our kids and the sunshine. Thanks for your blog. I enjoy your expertise and also your levity!
People may be moving because of covid but what I have found more of is people wanting to move because they are trying to get away from far left liberal policies in Cali.
We love Jim & Donna who helped us buy our first home together.
Jim Klinge is an awesome realtor. We love his videos and he's spot on when looking at local real estate trends. Jim is great to work with and we have already recommended him to our friends.
Best lock pick ever.
You and Donna are the best. Stay healthy so if we decide to sell decades from now we can depend on you!