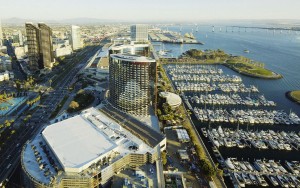 From the wsj.com – hat tip to my Uncle Bob for the article!
http://www.wsj.com/articles/san-diegos-downtown-gets-the-big-city-treatment-1452178518
An excerpt:
A 41-story luxury condo building is on the rise. Boasting a screening room, a swimming pool and a boat-share program, its 215 units will soon be going on the market at prices starting at $1.4 million.
The building is downtown San Diego, an area with a seedy past. The median sale price in the neighborhood last year was $741,500, according to real-estate website Trulia.
San Diego has long been a car-centric city, dominated by suburban-style subdivisions and gated communities. Now, that's changing. Cranes downtown mark where new office towers, luxury condos and hotels will soon join the skyline. Restaurants with upscale comfort-food menus and hidden speakeasy bars line revitalized street fronts. Though downtown's revitalization has had several waves over the years, the latest is higher-end, and picking up quickly post-recession. The population of downtown is about 30,800 residents—a 76% increase since 2000—and more than 9,000 apartment and condo units are currently in the pipeline for development.
Brad Termini, the co-CEO of Zephyr, a San Diego-based developer of high-end housing, said buyers want to be able to walk to neighborhood amenities. "We're seeing a real flight out of suburbs like Rancho Santa Fe because of the lack of walkability and the high cost of maintaining those estates," he said, referring to a wealthy suburban area in north San Diego County full of gated developments and large, luxury estate homes.
A few months ago, Huey and Suzanne Antley sold their home in the northeast edge of San Diego and bought a 1,000-square-foot condominium in the Marina district downtown, a neighborhood known for its high-end condos, parks and touristy Seaport Village. The couple paid about $600,000 for their condo, which is near a park where they can walk their dog.
There is no sign of a slowdown. Ms. Michell, of the Downtown Partnership, says that over the next 30 years, the city's population is forecast to grow by an additional 1 million residents.
Marsha Sewell, an interior designer and general contractor, moved downtown in 1991 to convert a 100-year-old mixed-use building into a single-family home. Then she purchased another historic building for $600,000, rehabbed it and sold it for $2 million. A few months ago she moved into a 3,200-square-foot condominium she paid $1.075 million for and has just completed renovating.
"The prices are only going to go up, and at the high-end of the market people really want space," she says.
Read full article here:
http://www.wsj.com/articles/san-diegos-downtown-gets-the-big-city-treatment-1452178518