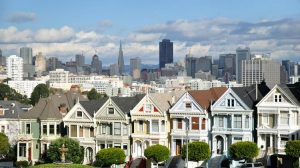 A pair of married software engineers hooked up with real estate agent Tim Gullicksen about six months ago in pursuit of their dream home.
After taking time to peruse the market, the couple found a multimillion-dollar single-family home in San Francisco that they loved. In January, they wrote an offer letter to the seller, complete with an attached photo of the young family, and squared away their finances.
In early February, the couple told Gullicksen they would no longer place a bid. They planned to take a three-week vacation in their native country of India, and decided they couldn't risk buying a house if President Donald Trump's administration wouldn't let them back into the US. (While no such restriction exists, they worry the new administration might change its mind.) They declined to speak with Business Insider directly for fear of retribution from the government.
San Francisco is one of the most competitive housing markets in the US, with a median listing price that tops $1.1 million. But foreign-born tech workers, who often commute to Silicon Valley, are starting to back out of buying property because they worry about an escalating crackdown on immigration under Trump, according to some real estate agents.