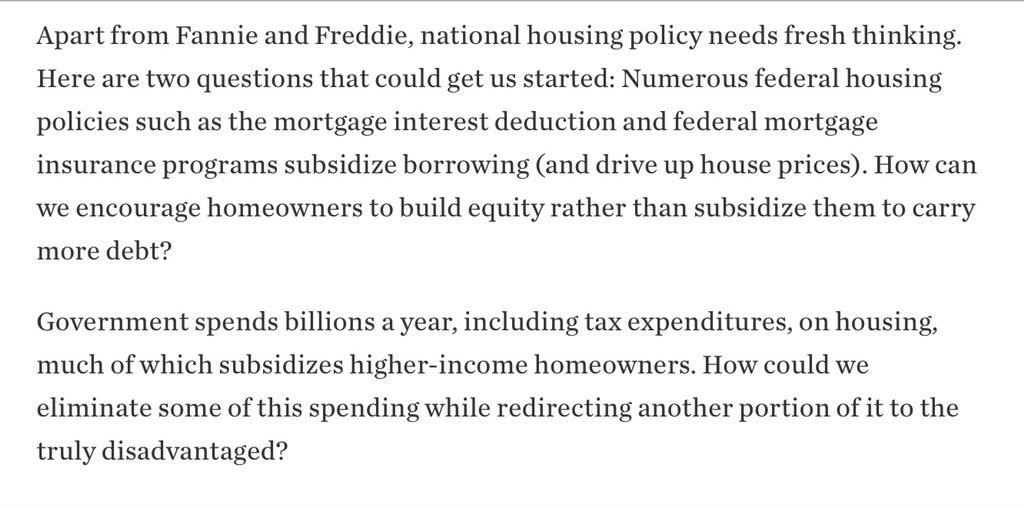 I saw these questions from Ed DeMarco on Twitter. My answers:
1. Have the M.I.D. apply towards primary residence only (not second homes), and lower from $1,000,000 to $500,000.  Those buying in hopes of a bigger write off will still buy a house, and take the partial benefit – and be in it for the appreciation and to raise a family (make wifey happy).
2.  Have the mortgage interest deduction be in effect for the first ten years of ownership only.  It would encourage borrowers to pay off mortgages in the ten years, and not refinance every year.
3.  Require that only the buyers can pay for mortgage insurance (sellers can pay in full now).
4.  Redirect the disadvantaged folks to subsidized rentals until they aren't disadvantaged. Only stable, secure, affluent people should buy a house – it's too late for the rest, unless they drive to the suburbs/outer edge of town.
5.  There are several loan programs available to help the disadvantaged already.  NACA is still around, helping buyers purchase with no down payment and no closing costs (H/T daytrip):
https://www.naca.com/naca/purchase/purchase.aspx
6.  Lower the capital-gains tax for 1-2 years to incentivize those reluctant-but-motivated possible sellers to unload a rental property or two.  Cut federal rate to 10% for the first year (currently 20%), and then back to 15% in the second year.  The crotchety old guys still won't sell, so there won't be a flood.  But more inventory = more sales while stabilizing prices.
7.  Keep Fannie/Freddie the way they are for now. If they can keep operating in the black, let's allow the mortgage industry to enjoy the fluidity. I attended a seminar today on the new loan disclosures coming on October 3rd, and it is clear that Fannie/Freddie will be extremely strict on compliance. It doesn't mean tougher credit, it means the mortgage industry needs to submit the cleanest loan packages ever – which is good for the taxpayers.
8.  The new compliance crunch will virtually eliminate mortgage brokers – wholesale lenders won't want to take a chance on them. Yes, we still have room for you over here to be a realtor – there's only 11,000 of us chasing 3,500 sales each month.
9.  Encourage a private jumbo-MBS market without subsidizing it.  Eventually, a private MBS marketplace could help shift the burden from Fannie/Freddie.
10. Run a tight ship.  We can handle it.
The powers-that-be have made some great moves to get us this far, now bow out gracefully and let free enterprise take care of the rest.