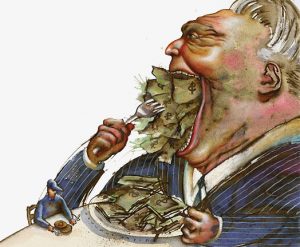 By now, the low-inventory/fast-market has trained the motivated buyers to be on red alert.  If a new listing pops up that looks remotely interesting, those buyers know to get over there quick for a peek.
This presents a major problem for the sellers and listing agent.
Once the parade of lookers descends upon the new meat within hours, it is irresistible for the ego to go wild, and it causes sellers and listing agents to have visions of lottery-type money.
It is so much fun, they want it to last forever! They are so excited!
Savvy buyers know that if this is THE house, they need to make an offer promptly.  It makes the equation quite simple – sellers will receive offers from the motivated buyers within the first 2-3 days.  All you have to do is counter for every buyer's highest-and-best offer, and by Day Four the buyer who will pay the most will emerge.
But what usually happens?
The overly optimistic buyer-agents get all giddy and tell the listing agent that they think they will be making an offer.  But a funny thing happens to buyers once they roll down the street for a couple of blocks – all the reasons NOT to buy that house come up, and most buyers talk themselves right out of it.  At least half of the people who threaten to make an offer never do.
What if you are a motivated buyer, and make a great offer in the first 1-2 days?  It happens regularly that sellers and listing agents will pooh-pooh a great early offer, and hope that there are two in the bush.
What can buyers do?  You only have one option, and that is to walk away if you don't get a response by the time the offer expires.  At least if you threaten to quit, it should hopefully get their full attention.
Sellers and listing agents think that lots of visitors = lots of offers.  But most visitors don't offer – they're just visiting.  In virtually every case, the no-offer rate is at least 90%, but sellers ignore that and are convinced there has to be two or more in the bush.
Here's today's example:
The seller paid in the low $700,000s in late-2012, and didn't add anything but lipstick since. We initially offered $1,275,000 last week, and sure got the feeling that we were getting shopped around – the listing agent kept reminding me that there were other offers expected.  So we put a deadline of 1:00pm today to accept our $1,300,000 counter-offer.  Two hours after our deadline, the seller countered $1,339,000, which was just $6,000 under their first counter.  They called it their final offer, and it wasn't a multiple-counter, so no other offers were on the table.
The sellers paid low-$700,000s, and couldn't live with $1,300,000 – they had to have an extra $39,000, or the deal was off.
My buyers stuck to their guns, and instead we were off to a new listing that was priced well under this one.
Get Good Help!
Save
Save