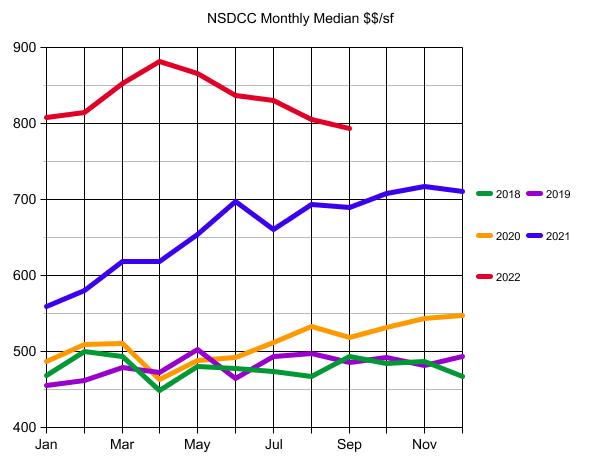 Instead of using the median sales price as a gauge, let's look at the history of the median $/sf to help bring the size of the homes into the equation.
Thoughts:
I remember 2018 and 2019 being fairly flat and a bit of a struggle.  Rates had been in the 3% to 4% range during the 2015-2017 period, and once they got back into the mid-to-high 4s in the summer of 2018, pricing hit the skids.  Luckily, rates dropped under 4% in late-2019 which caused us to be optimistic about the selling season of 2020 – and you can see that pricing got off to a good start.
The Pandemic Stall caused a blip in April, 2020, but we recovered and charged into 2021.  You could say that local pricing took off like a rocket, rising 25% in five months:
Jan 2021: $559/sf
Jun 2021: $697/sf
Today we are under where 2022 started, and it could get worse. However, the median for the 38 sales closed this month is an impressive $823/sf, which is 4% higher than last month.
But we have a long way to go!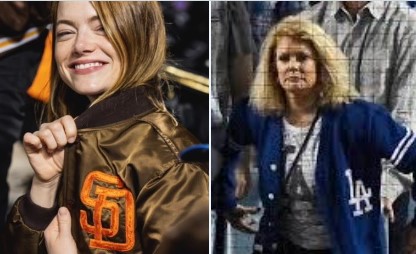 Speaking of a long way to go, Rob Dawg wanted to stir it up, like most Dodger fans.  We have been subject to endless taunting since making the playoffs, including Charlie Steiner suggesting that the Padres rivalry with the Dodgers would be like a nail having a rivalry with a hammer.
Just you wait!
Bob Melvin has engineered the greatest rope-a-dope since Muhammad Ali. Sacrificing the first game last night with Clevinger vs. Urias was ingenious, because Kershaw is washed up and due for a dud – and Darvish has been lights out.
The Padres win tonight, and then come home to the raucous crowd who hasn't seen a playoff game in 16 years, and Petco Park will be rocking for Snellzilla. Then we got No-No-Joe for Saturday's game and the Dodgers will have to bring back Urias early on three days rest and he won't have enough.
This is the last chance to get on the Padres bandwagon!