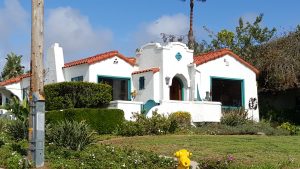 Richard and I were discussing the phenomenon of houses selling for prices that are well-above comps – and how they almost always end up being all-cash sales.
Back in the day, the cash buyers always demanded the best deals – figuring that because they were paying cash, they somehow deserved a better price.  But today, cash buyers are throwing around big money to get what they want.
What do they want?
What do they need?
We know that the one-story homes have always been popular, especially with seniors. Guess who has all the money? Yep – the older set.
But there is more to it. Buyers get pickier as prices go up, and now they want everything.  You can't blame them – we are at record prices!
My rule-of-thumb has been that one-story houses sell for a 10% premium over two-story houses. But I think the gap is increasing, and for single-level houses that also have the other valued features like 3-car garage, view, and a low-maintenance but attractive yard, there is a combo premium too.
Part of the pricing pressure is due to the inventory differences. Here's a look at South Carlsbad over the last six months:
Detached-Home Listings in 92009 and 92011
| | | | | | |
| --- | --- | --- | --- | --- | --- |
| Type | ACT Listings | Avg. LP/sf | SOLDS last 6 mo. | Avg SP/sf | SP:LP |
| One-Story | 26 | $425/sf | 67 | $418/sf | 98% |
| Two-Story | 133 | $355/sf | 301 | $337/sf | 95% |
If you prefer one-story homes, there aren't many to consider, and the cost-per-sf premium of the solds is 24%!
When analyzing the comps, you can't compare 1-story and 2-story homes together – they are two separate markets.
Here are two examples of one-story homes listed yesterday:
6387 Huntington, Carlsbad, 92009
You can buy two-story homes that are 600-800sf larger nearby for the same price – or less.  But because both of these have other premium features (views, lower-maintenance yards, 3-car, and no pools), and the selection of one-story houses is scant, these two stand a good chance of selling promptly!
With 10,000 baby boomers turning 65 years old every day, it's understandable that one-story homes are fetching a premium, which today appears to be 10% to 20% above two-story homes.
What is the combo premium for the one-story houses with the extras?  It has to be another 10% minimum, and for those that have it all, there is no ceiling.
It means that the method of selling will determine the outcome.
If the seller hires a regular realtor who compares the super-duper one-story to other two-story homes nearby, there will be money left on the table.
This is where the auction format could really pay off. Bidders are uncertain about calculating the value of the extra features, and getting them into a competitive environment will cause them to pay whatever it takes to win.
Get good help – hire a realtor who can evaluate the premiums, and create an auction-like format to ensure top dollar!