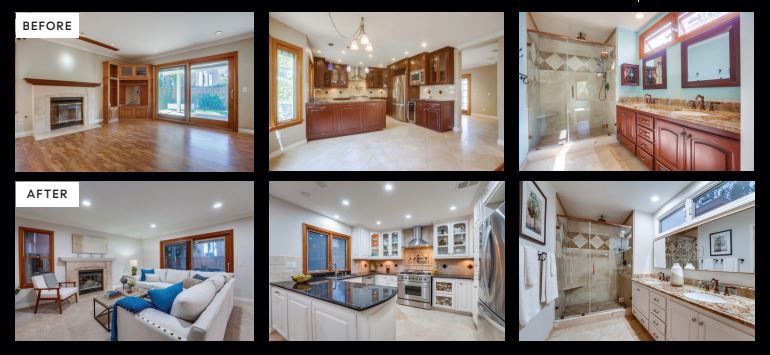 Our Carmel Valley listing closed escrow yesterday!
It was the 3br/2.5 ba, 1,804sf home built in 1989 that we completed about $60,000 worth of upgrades in preparing for market (it had been a rental for years).  The before-and-after photos were featured here:
Previous Blog Post
The house looked great and it was vacant but this was when I did the blog post about spring break interrupting the market's momentum. We decided to forge ahead, and I inputted the listing onto the MLS on the Thursday morning before spring break with immediate showings available that day – in hopes of catching any buyers that might be leaving for vacation the next day.
We had six showings on Thursday and Friday, and 100+ people came to open house over the weekend.
In January, I predicted that we would list for $1,750,000, and sell for $1,900,000.
On March 31st, we hit the MLS priced at $1,750,000, and closed for $1,875,000.
We received one offer.
Thankfully, the only offer included a $125,000 premium to incentivize the sellers to take the deal, instead of waiting for two in the bush. But we were already on Day 4 of open-market exposure, so I knew we were at peak market and our chances of selling for over list price would start dropping .
We contemplated whether we should counter-offer on price, or extend the two-week escrow period because we wanted the extra time for the sellers' 1031 exchange. But given the fact that we only had one offer, the sellers signed it.
We had already completed a home inspection in advance, and thought we had fixed everything.  The buyers did their own home inspection – which we always recommend to our buyers as well, and here's why.
Their inspector noted that the water-meter gauge was running, even with all faucets being off.  It's the sign that a leak had developed, and the hot-water heater was operating the entire time too.  The sellers checked their history of utilities and found their costs spiked on March 31st.
We have a 'slab leak', and we knew it was the hot side!
Just the thought of a slab leak causes grave concern and panic for most people. But we've handled them before, and know that they can be fixed with money like any other home repair.
Donna's vendors jumped on it, and we closed in 16 days, instead of fourteen.
Here's the video: