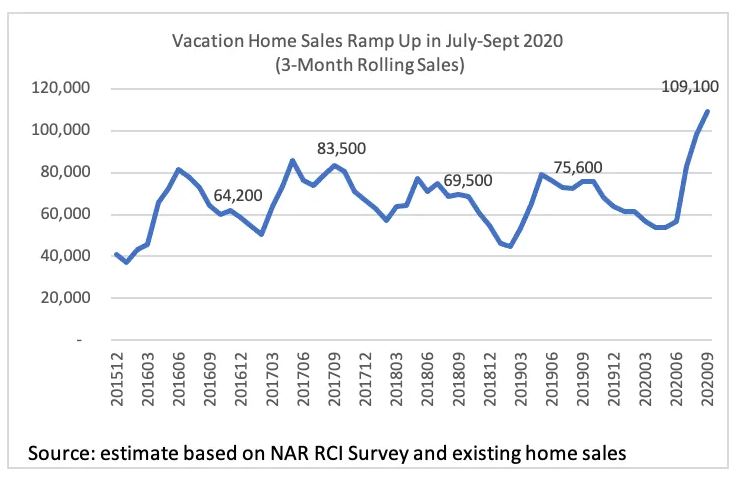 San Diego didn't make the NAR list of vacation-home areas (counties where 20% of the housing stock is for seasonal use), but our market should be enjoying some additional second-home purchases:
Vacation home sales are outperforming total existing-home sales. Sales of homes intended for vacation use rose to 109,100 in the past three months of July-September, a 44% gain from the level of 75,600 sales during the same period last year, according to NAR estimates based on information gathered from the monthly REATORS® Confidence Index Survey and NAR's existing-home sales estimates. In comparison, total existing-home sales during July-September rose 13% year-over-year (1.72 million in July-Sept 2020 vs. 1.52 million in July-Sept 2019).
The pandemic and low mortgage rates have increased the desirability and affordability of owning a vacation home. Buyers may be desiring a vacation home as a weekend getaway as urban-based leisure activities are still constrained by social distancing. The ability to work from home also means buyers who can work from home can spend more time at and enjoy their vacation home. Historically low mortgage rates have also made a home purchase more affordable, while rising prices in past years have yielded larger home equity gains that can be tapped (through say a home equity loan) to use for a down payment.
Link to Full Article