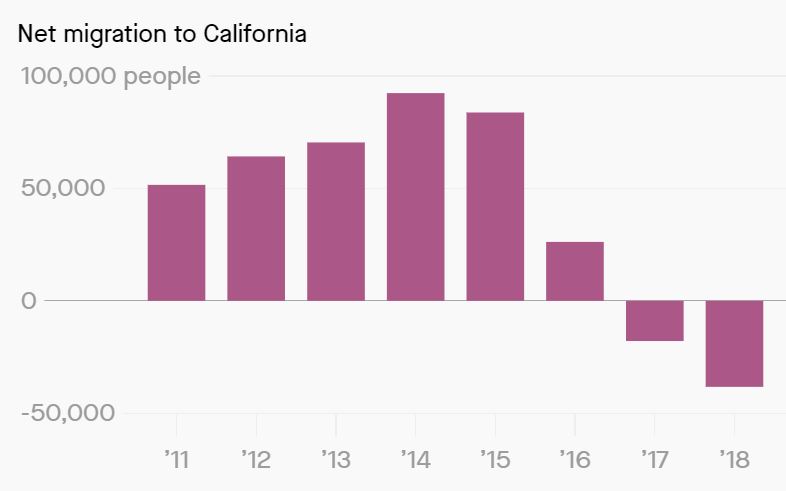 Hat tip to CB Mark for sending in another article on people leaving California – I added the U.S. Census stats for San Diego County at the bottom:
People have long dreamed of moving to California, but increasingly the people in the state are looking to get out.
According to recently released data from the US Census, about 38,000 more people left California than entered it in 2018. This is the second straight year that migration to the state was negative, and it's a trend that is speeding up. Every year since 2014, net migration has fallen.
California's population did still increase in 2018 by almost 160,000 people, largely due to the 480,000 people born in the state. But while migration out of the state has accelerated over the past few years, the number of annual births has been steady. The trend suggests in the next decade California's population will begin to decline.
Besides births, the main reason California's population hasn't already started falling has been international migration into the state. Every year since 2011, net domestic migration has been negative—i.e., more people leave California than move in from other states. But from 2011 to 2016, the number of international migrants moving into California was larger than the number of locals who were moving out.
Since then, however, domestic departures have outstripped international arrivals.  In 2018, 156,000 locals left the state, compared to 118,000 international who came.
Link to full article:
https://qz.com/1599150/californias-population-could-start-shrinking-very-soon/
The exodus from San Diego County is picking up steam.  Where the cumulative total of domestic migration over the last eight years was only 46,596 (avg. 5,825 per year), we had 10,835 leave in the most recent 12 month segment – and the international arrivals have slowed considerably too: