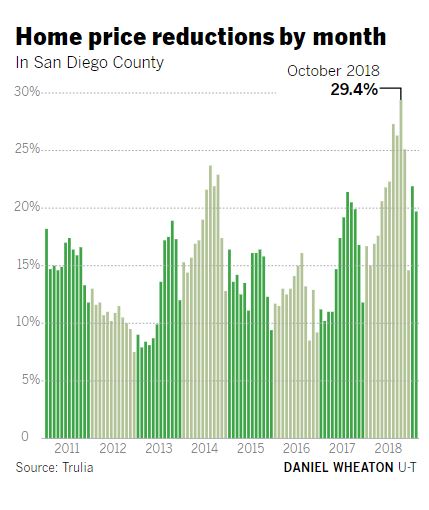 The percentages are quite a bit higher this year. The title of the graph could be 'Sellers Who Are Having No Showings' because most are (overly) optimistic this early in the selling season and hold tight on price until later.  Something must be rattling them – like no showings.
An excerpt from the UT article:
Home price reductions are still common when the market is red hot. It is sometimes a selling tactic — although not usually considered a good one — to price a home higher and then come down so the buyer feels like they are getting a deal. But, the number of reductions recently shows a big change.
For instance, 8.5 percent of homes had price reductions in November 2016. In November 2018, there were 29.4 percent.
Jason Cassity, a real estate agent based downtown, said the industry has a problem shifting when there has been a big change — such as a downturn in sales at the end of last year. He said some agents are operating like there will still be a bidding war.
"If you continue pricing like it is 2016, it is going to sit on the market a long time," he said. "Or you are going to be one of those 20 percent (in February) that have to price reduce."
He said a lot of the reductions he has seen were listings marked up too high out of the gate, something a lot of agents could get away with for years. He said sometimes homes are priced overly high just to meet sellers' expectation of a huge payday, not the actual value.
Cassity said he presents news articles about the real estate market to clients before they decide on what price they are going to market with.
Link to Full Article