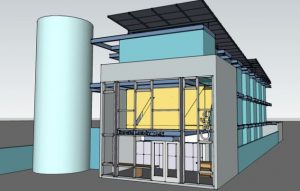 I love this idea – but $140,000 each? Hat tip Eddie89!
The region's first housing project made from shipping containers could open as soon as April, providing homes for 21 formerly homeless veterans and possibly paving the way for hundreds of new affordable and median-priced homes in the near future.
The units are planned for a vacant lot at 2941 Imperial Ave. in Logan Heights.  Each 320-square-foot unit would have its own patio, kitchen and bathroom. While the units will be built from metal shipping containers, they will be insulated and have interior drywalls.
"When you walk in, these things are solid," Copley said. "You don't hear your neighbors. You don't hear people walking around."
Of the 21 units planned for Imperial Avenue, one will be for a household classified as very-low income, 10 will be for households making 80 percent of the area media income and the remaining 10 will be priced at market-rate.
Besides money from investors, part of the financing will come from a new state pilot program created by Assembly Bill 1637, which allows housing authorities in San Diego and Santa Clara County to make loans for construction projects that include units specifically for middle-income households. The bill was introduced by Assemblyman Todd Gloria, D-San Diego, and signed last year by Gov. Jerry Brown.
While conventional housing projects may spend nine months in the permitting process followed by nine to 12 months in construction, projects made from shipping containers are much faster.
Rather than cutting wood and building frames for a building on a lot, a shipping container complex is created by converting the containers into housing units off-site and then setting them into place with a crane.
Copley said he acquired the Imperial Avenue property in April, and the project could be ready for move-in next April. He already is in the local permitting process, while the shipping container provider will receive permits from the state.
"A lot of things done quickly are not done well," said San Diego Housing Commission President and CEO Rick Gentry. "But if it's done quickly and is a lasting benefit to the community, then it's worth doing."
Affordable housing units often take $350,000 to $400,000 a unit to build, while the Imperial Avenue project will cost $140,000 a unit, Copley said.
Link to Full Article