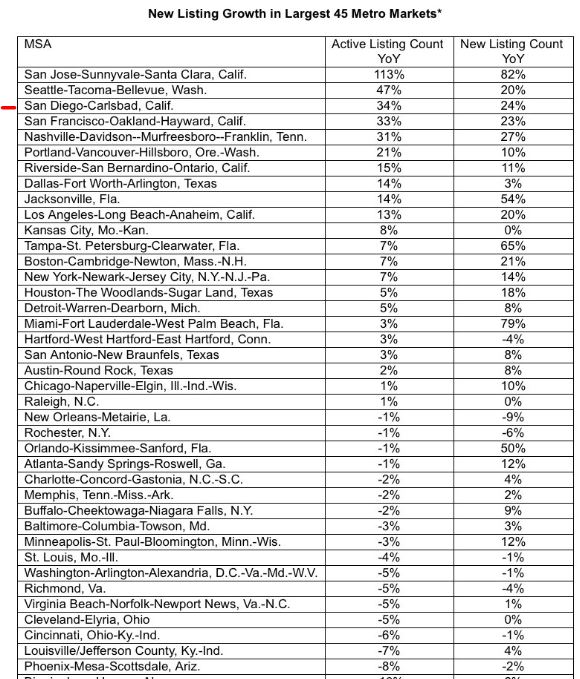 For those looking for our jumping-the-shark moment, this might be it.
Inventory is growing, and there is only one reason: More prices are wrong.
But when you sell your best asset down the river and let amateurs run it who are out of touch with reality, you get explanations like this:
The number of homes for sale in the country is starting to flatten, which realtor.com® researchers say is signaling a "crucial inflection point for the inventory crisis." Inventory has decreased slightly by 0.2 percent from a year ago, but is poised for an increase in the months ahead due to an 8 percent increase in new listings. This marks the largest annual jump since 2013, according to a new report from realtor.com®.
"After years of record-breaking inventory declines, September's almost-flat inventory signals a big change in the real estate market," says Danielle Hale, chief economist for realtor.com®. "Would-be buyers who had been waiting for a bigger selection of homes for sale may finally see more listings materialize. But don't expect the level to jump dramatically. Plenty of buyers in the market are scooping up homes as soon as they're listed, which will keep national increases relatively small for the time being."
She gives the impression that more homes for sale will be satisfied by pent-up demand – that we shouldn't "expect the level to jump dramatically", because the new inventory will get scooped up.
If you ask me, +34% and +24% is dramatic!
Inventory is up because buyers are waiting for a bigger selection of affordable and better-priced homes for sale.  Any time the inventory grows, it is due to overly-optimistic pricing.