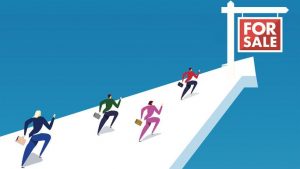 What today's home buyers are up against……from realtor.com:
Driven by frustrated buyers who rolled over from last year and record-breaking lows in housing inventory, the 2018 spring buying season is expected to be one of the most competitive in years—but buyers are still optimistic about getting into their dream home, according to a survey conducted for realtor.com®.
"We're only a few weeks into March and already seeing the market heat up," said Danielle Hale, chief economist for realtor.com®, in a statement. "Holdover buyers hoping for greener pastures this spring are likely to find sparse options that require them to pay top dollar or make other concessions."
And those holdover buyers are driving a large portion of the demand, according to an online survey of more than 1,000 active buyers conducted in early March by Toluna Research.
The home search has dragged on for more than seven months for 40% of respondents, the survey showed, while 34% have been searching for 4-6 months. About a quarter have been in the market for three months or less.
More than one-third, or 35%, of those surveyed indicated they anticipate "a lot of competition" this spring.
Perhaps because of that, buyers are thinking strategically about turbocharging their home search and getting an edge on the competition.
When asked how they are trying to get ahead, 42% of respondents revealed they are checking listing websites every day, while 40% plan to put more than 20% cash down. The survey also revealed that 33% are setting price alerts, 31% plan to put down a larger earnest money deposit, and 26% are willing to offer above asking price. Only 6% indicated they are not planning to use any special tactics to cope with competition.
"The majority of buyers are aware of the tough competition they're up against this spring. Having been in the market awhile, they've likely lost a few homes to better offers, which has given them more time to save and up their bidding strategies," said Hale.
Link to Article