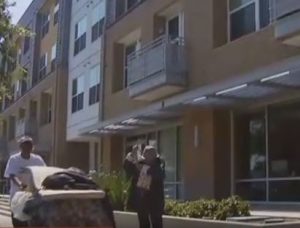 This article adds the numbers.  We need to build at least three times as many homes as we've been building to keep up with the growth – and no telling what that would do to prices, if anything:
http://www.cbs8.com/story/36420282/report-changes-needed-to-meet-san-diego-housing-demand
SAN DIEGO (CNS) – As the homeless population grows and rents balloon in San Diego, city officials Thursday announced a series of proposals to help alleviate the housing shortage over the next 10 years.
Numerous changes to city codes and procedures are required to meet the housing demand, according to a report presented to the City Council's Smart Growth and Land Use Committee.
Some of those changes include rezoning areas around transit hubs to increase density, converting unused industrial zones into residential areas and encouraging smaller unit sizes. Making use of vacant lots and easing some onerous parking requirements are also among the ideas identified in the report.
"This is an exciting step because it gives the city goals for the future, and it gives the city goals to be measured by," San Diego Housing Commission President Richard Gentry said.
To meet the housing need in San Diego, as many as 220,000 new housing units will need to be built by 2028, the report said. The top annual production rate within the last 5 years has been of 6,400 units. Even with the solutions identified in the report, San Diego would have to bolster its production rate.
"To meet the projected needs for the city for the next 10 years, we will need to produce between 17,000 and 24,000 housing units per year — a dawning task but a worthy goal to be set," Gentry said.
After the presentation, City Councilwoman Georgette Gomez worried that more units may not necessarily fix the housing crisis facing the region.
"I would love to work with the housing commission to look at the affordability of housing," Gomez said. "I'm not a firm believer that just creating units is going to get to the actual issues that are in front of us."
According to a staff report, the annual rate of housing construction has been well under half that of population growth over the past decade, creating a warped supply-and-demand situation that has prompted costs to skyrocket. The result is that half of San Diegans can't find rental units they can afford and 60 percent can't afford to purchase a home, according to the report.
"What we are doing is driving our kids and grandkids right out of town," Councilman Scott Sherman said.
The report identified the communities of Skyline-Paradise Hills, Linda Vista, Otay Mesa, Clairemont Mesa and Navajo as the areas with the largest housing growth potential. As many as 74,000 units could be built all together in those five communities.
If all the suggestions in the report are carried out, that 10-year housing goal could be met or exceeded. Then hope later one is to keep that same production rate through 2028 to keep up with the expected population growth.
http://www.cbs8.com/story/36420282/report-changes-needed-to-meet-san-diego-housing-demand