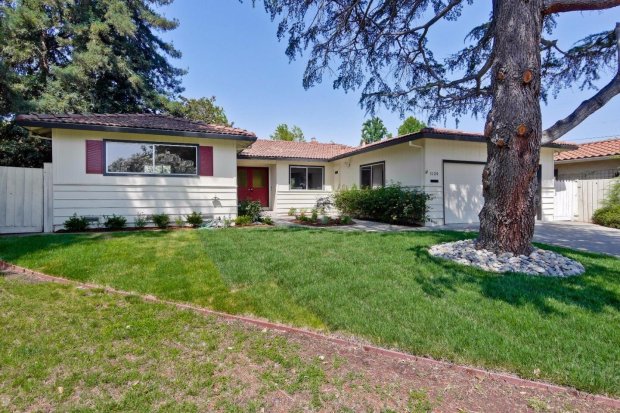 Hat tip to Richard for sending this in…..how much more can buyers take?
A house in Sunnyvale just sold for close to $800,000 over its listing price.
Your eyes do not deceive you: The four-bed, two-bath house — less than 2,000 square feet — listed for $1,688,000 and sold for $2,470,000.
"I think it's the most anything has ever gone for over asking in Sunnyvale — a record for Sunnyvale," said Dave Clark, the Keller Williams agent who represented the sellers in the deal. "We anticipated it would go for $2 million, or over $2 million. But we had no idea it would ever go for what it went for."
This kind of over-bidding is known to happen farther north in cities including Palo Alto, Los Altos and Mountain View. But as those places have grown far too expensive for most buyers, future homeowners have migrated south to Sunnyvale, a once modest community that now finds itself among the Bay Area's real estate hot spots.
Close to tech employment centers, it makes for a convenient commute — and prices there, too, are now pushing the limits of middle-class buyers. The house that sold for $782,000 over asking in Sunnyvale — it's on Prunelle Court — is about a mile from Apple's new spaceship campus.
The buyers, who work in tech, had been hunting for a home for a while — but kept getting out-bid, said Mini Kalkat, the Intero agent who represented them: "They lost two before they bid on this one, so we kind of knew what the numbers would be. It's a crazy market, but there's a way to maneuver the market."
The property is one of more than 50 South Bay homes that sold in the last month for at least $200,000 above the listing price. More than half of those deals were made in Sunnyvale. Others were made in Cupertino, Saratoga and West San Jose, according to Alain Pinel agent Mark Wong. He compiles a monthly list of such "over-asking" transactions.
Over-asking sales are at least partly the result of agents' sleight of hand. It's become common strategy to list homes under their market value in order to entice Silicon Valley buyers; they are all too willing to fight over the few houses available in this chronically tight market.
Read full article here:
http://www.mercurynews.com/2017/09/12/now-this-is-ridiculous-782000-over-asking-for-a-house-in-sunnyvale/