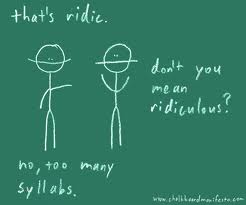 I had a buyer refer to our market as 'ridic', and the point is painfully obviously to anyone who has been looking to purchase a new home for months or years – the pricing seems to get more ridiculous every day.
Today's goal is to buy the least-ridiculously-priced home!
In the last post, you could see that the government may have some ideas, but they won't be implementing any effective relief measures for a while – if ever.
What can buyers do?
You have two choices:
 Go up in price.
 Compromise.
For those who have resources, going up in price is probably the easiest way to solve the problem.  Add more down payment, get a co-signer, have the seller buydown your rate, or buy more lotto tickets!
Tip for self-employed:  You can qualify for a Freddie Mac loan with one-year's tax return.  You are getting ready to file your 2016 returns now – bite the bullet and don't include so many write-offs this year!
The thought of compromise makes every buyer cringe – Chris Rock says that women don't like to go backwards in lifestyle, but try to give it a shot.  A smaller home, yard, garage, or fewer other features may be worth it to stay in the same area.  Or widen the target area – consider going farther out.
There are elementary schools rated a 10 in several areas:
We know the elementary schools in the Del Mar School District (Del Mar and Carmel Valley) are all rated a 10, but they are among some pricey real estate.  But there are other '10' rated elementary schools in the Solana Beach and Encinitas school districts, and here are four '10' rated elementary schools in Carlsbad too, where, if you don't mind driving 5-6 more exits up the 5, you money goes further!
For those who prefer no maintenance, buying a pimped-out condo or townhouse might be a better choice than an older house!
I think we could see the move-up market come alive with people who bought a temporary residence.  If you have more horsepower coming your way in a few years, buy something that will last you for now, and get the forever home later!
I'm happy to discuss your situation, and help you find solutions!
My cell phone is (858) 997-3801, call or text!