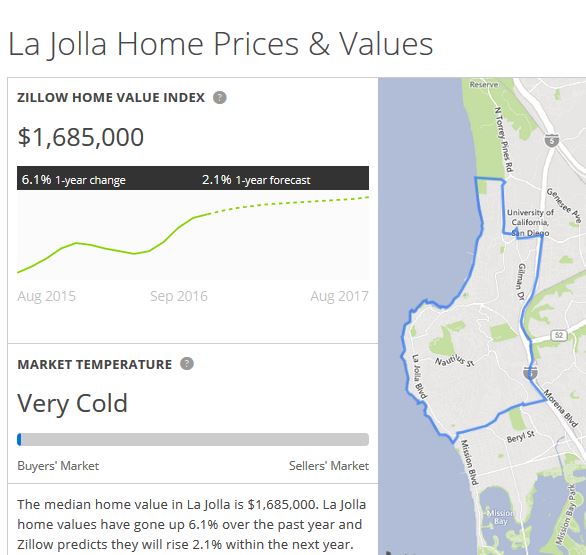 ~~~~~~~~~~~~~~~~~~~~~~~~~~~~~~~~~~~~~~~~~~~~~~~~~~~~~~
It's that time of the year – the 2017 forecasts are starting to roll out!
Zillow has been conservative about our local markets.  For the most part, the actual appreciation of the Zillow Home Value Index has been higher than their forecasts over the last two years.
Their local forecasts for 2017 are all lower than their 2016 guesses, and what they are predicting could also be described as 'Flatsville'.  If their local forecasts of +0.9% to +2.2% come true, it would mean that several sellers would end up selling for less than they could have gotten in 2016.
Are we ready for that yet?
Local ZHVI-Appreciation Forecasts
Town

2

015 Forecast/Actual

2016 Forecast/Actual

2017 Forecast


Carlsbad

+2.7%/+4.8%

+1.9%/+3.8%

+1.3%

Carmel Valley

+0.3%/+5.4%

+1.4%/+1.9%

+0.9%

Del Mar

+5.5%/+1.1%

+1.4%/+2.6%

+1.1%

Encinitas

+0.6%/+8.3%

+2.4%/+6.3%

+2.2%

La Jolla

+2.7%/+6.6%

+2.3%/+6.1%

+2.1%

RSF

+0.4%/+11.1%

+3.7%/-0.5%

+1.9%

San Diego

+1.7%/+6.4%

+2.1%/+4.0%

+1.7%

Solana Beach

+2.7%/+6.4%

+2.2%/+2.6%

+1.4%
The Zillow data changes slightly, depending on where you look on their website, and whether you use town names or zip codes. Here is the LINK to find others.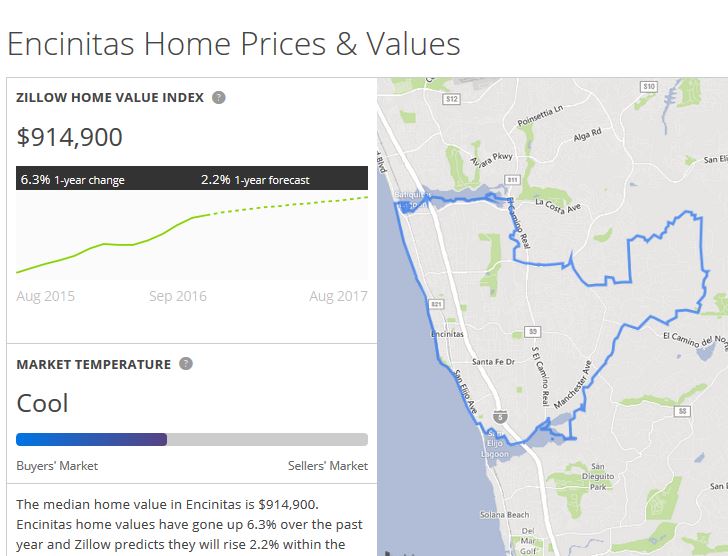 Save
Save
Save
Save