I showed 20-25 properties to buyers over the weekend, which always makes me cringe because I know what will follow – those incessant 'feedback' requests.  In a hot market, they come by email – listing agents don't care what you think then, because they know the property will be selling any minute.
But these days you get phone calls.
The calls usually come from assistants, and, for the most part, they don't care what the feedback is, they just need to write something down.
But occasionally the actual agent will call, which hopefully means somebody has some real motivation over there.  I like to turn these into two-way conversations and ask questions to see if the agent might be realistic.
Agents love to gush about how many showings they've had, and as a result, how a sale must be right around the corner.  You and I know that a lot of showings but no offers means a lot of buyers not interested – at least not at this price.
But most agents are slow to accept that reality, so I'll follow it up by suggesting that the market must have turned soft and see what they say.  You can't assume that it's obvious to everyone, even those in the business.  Besides, after the run we've had, most realtors think the market is soft if they don't get multiple offers in the first week!
But what is a 'soft' market?
From Investopedia:
DEFINITION of 'Soft Market' – A market that has more potential sellers than buyers. A soft market can describe an entire industry, such as the retail market, or a specific asset, such as lumber.
This is often referred to as a buyer's market, as the purchasers hold much of the power in negotiations.
The market will feel 'soft' to sellers and agents who are getting showings but no offers.  They will blame the 'market', as if the problem is outside of them.
But we know what the real problem is – sellers got a little too enthusiastic about their list price, and buyers are now balking.  For example, see below.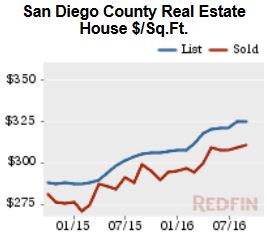 Most agents are reporting no offers on their listings, and you can see why.  There isn't enough pricing momentum to propel buyers to keep paying more.
How soft is it?
Probably 5% to 10% – but do you deduct from today's lofty list prices, or from the last comps?  Results may vary!
Save