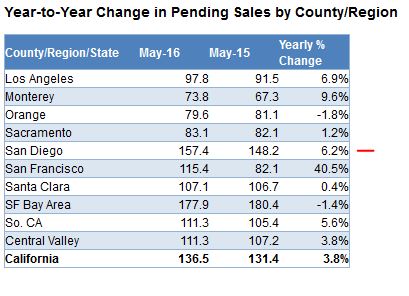 Work with an agent who is well-versed in handling multiple offers!
http://www.car.org/newsstand/newsreleases/2016releases/may2016pending
Pending home sales in Southern California as a whole rose 5.6 percent from May 2015 and 2.4 percent from April, thanks to year-over-year gains of 6.9 percent in Los Angeles County and 6.2 percent in San Diego County. Orange County experienced a 1.8 percent decrease from the previous year.
In a separate study, California REALTORS® responding to C.A.R.'s May Market Pulse Survey reported slower growth in floor calls, listing appointments, and open house traffic, reflecting slowing market activity. Despite the lagging indicators, the percentage of properties selling above asking price reached an all-time high and the number of offers per property rose.
• The share of homes selling above asking price in May increased to 38 percent, the highest level since the survey began, rising from 32 percent in April. Conversely, the share of properties selling below asking price dropped to 34 percent. The remainder (27 percent) sold at asking price.
• For the homes that sold above asking price, the premium paid over asking price declined for the third straight month to an average of 9.4 percent, down from April's 9.6 percent and up from 8 percent in May 2015.
• The 34 percent of homes that sold below asking price sold for an average of 10 percent below asking price in May, down from 12 percent in April and up from 7 percent a year ago.
• Nearly seven of 10 properties for sale received multiple offers in May, indicating the market remains competitive. Sixty-five percent of properties received multiple offers in May 2015.
• The average number of offers per property increased to 3.1 in May, up from 2.9 in April and 2.8 in May 2015. The increase in the number of offers was driven by a greater share of transactions that received three or more offers. Moreover, homes priced between $200,000- $399,000 and $750,000-$999,000 saw the greatest increases in three or more offers compared to a year ago.
• About one in four (23 percent) properties had price reductions in May, indicating sellers are pricing their homes more realistically. One-fourth of properties had price reductions in May 2015.