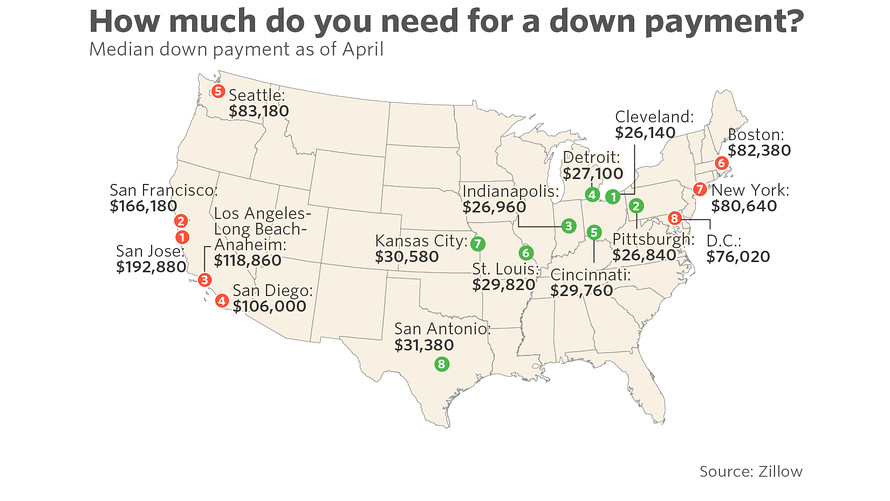 Those with less skin in the game are typically the people who have the most trouble in a down market. Apparently, the potential profit must be so large that the investors overlook that – or figure there is little chance the government will let the market go down again?
Several years after her divorce, Tricia DeWaal was still living in the 3,200-square-foot home where she'd raised her children. When her youngest moved out, DeWaal knew it was time to downsize.
"For what I wanted, I had a 20% down payment, but that would pretty much clean me out in terms of cash," DeWaal told MarketWatch. "I wanted to have some backup."
After lots of online research, DeWaal came across a company called Unison, which had an intriguing sales pitch. The company's home-buyer program offers buyers money for a down payment in exchange for a share of equity in the home, to be paid back when the owner sells.
DeWaal had what she called a "very positive experience." "It's definitely a good thing for somebody who's trying to afford a certain amount that they can't quite get to," she said.
Homeownership's biggest barrier to entry, the down payment, looms larger and larger all across the country. Student debt payments and high rents are formidable barriers to saving, and, while there are plenty of ways to buy a home with less than 20% down, all require some form of mortgage insurance, making them more expensive.
For a long time, nonprofits have tried to help home buyers up and over the hurdle. But in today's tight market and constrained lending environment, fintech companies are seeing an opportunity as well, particularly in the hottest housing markets, where 20% down can mean six figures.
Unison and a competitor, OWN Home Finance, which is set to launch a similar product later this year, got started years ago with a slightly different business model: allowing homeowners with high levels of accrued equity a means of tapping into that money.
Here's how Unison's model works: The company contributes up to 50% of the down payment, or 10% of the total cost of the home, and, then, when the owner sells, Unison takes a share of the profit, usually 35% — or a share of the loss, also usually 35%.
For many housing market observers, the idea makes a lot of sense.
"I love to see the experiment," Brett Theodos, a senior research associate at the Urban Institute, told MarketWatch. "It's really intriguing as home prices appreciate and incomes don't. It feels like a missing rung in the ladder between renting and owning. We have so many investment vehicles that you can get into for small amounts of money, but homeownership is very much an all-or-nothing proposition."
Still, with programs like these, according to Theodos and other experts, the devil is in the details.