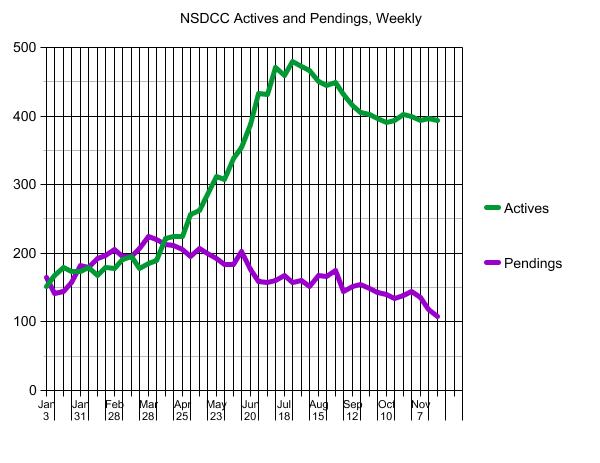 There have been 80 NSDCC closings in November, which should mean we should get to at least 100 sales for the month. But with only 108 pendings today, the monthly sales in December and January sales will probably be under 100.  Even though there are 393 active listings, sellers haven't been too interested in adjusting their pricing strategies, and most will just wait it out until some unknown date in the future.
Another lady was walking by on Wednesday when we were doing the photos of the new listing. She confirmed that we were selling the house, and replied, "It's a TERRIBLE time to sell".

She came back yesterday, and when she heard that I already had three offers, she said, "Well I guess it's good to get out, because I heard that PRICES ARE GOING TO GO DOWN FOR FIVE YEARS!"
The future is somewhat unpredictable, so let's just look at how sellers have been operating in 2022.
How do the sellers feel about getting more aggressive about their list prices?  If prices were going to decline for the next five years, there should be some evidence already.
Here are the weekly averages of LP/sf by price range in 2022: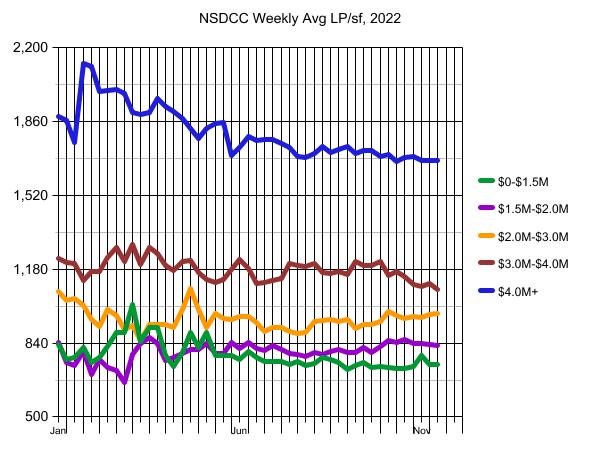 Generally speaking, at least 3/4s of the sellers would rather stick to their price and not sell.
I don't expect that trend to change.
If it were to change, it would be in the off-season when the stragglers who didn't sell in the spring/summer are motivated enough to accept a lowball deal.  But you won't see it much in the list prices, it will only happen for those who are willing to make low offers.
The $0 – $1,500,000 Market:
| | | | | |
| --- | --- | --- | --- | --- |
| Date | NSDCC Active Listings | Avg. LP/sf | Avg. DOM | # of Pendings |
| Jan 3, 2022 | 9 | $832/sf | 35 | 36 |
| Jan 10 | 9 | $766/sf | 28 | 29 |
| Jan 17 | 13 | $773/sf | 26 | 27 |
| Jan 24 | 9 | $818/sf | 15 | 29 |
| Jan 31 | 14 | $752/sf | 14 | 31 |
| Feb 7 | 13 | $774/sf | 12 | 32 |
| Feb 14 | 11 | $826/sf | 12 | 35 |
| Feb 21 | 7 | $889/sf | 17 | 38 |
| Feb 28 | 12 | $888/sf | 17 | 33 |
| Mar 7 | 9 | $1,017/sf | 21 | 33 |
| Mar 14 | 14 | $847/sf | 18 | 31 |
| Mar 21 | 8 | $912/sf | 26 | 36 |
| Mar 28 | 10 | $914/sf | 25 | 28 |
| Apr 4 | 10 | $782/sf | 33 | 34 |
| Apr 11 | 19 | $733/sf | 21 | 36 |
| Apr 18 | 16 | $795/sf | 28 | 34 |
| Apr 25 | 18 | $891/sf | 27 | 30 |
| May 2 | 22 | $822/sf | 23 | 31 |
| May 9 | 24 | $887/sf | 17 | 46 |
| May 16 | 25 | $783/sf | 22 | 25 |
| May 23 | 29 | $782/sf | 23 | 29 |
| May 30 | 30 | $782/sf | 24 | 28 |
| Jun 6 | 34 | $763/sf | 25 | 28 |
| Jun 13 | 33 | $802/sf | 29 | 29 |
| Jun 20 | 48 | $774/sf | 28 | 22 |
| Jun 27 | 43 | $755/sf | 32 | 22 |
| Jul 4 | 49 | $757/sf | 33 | 23 |
| Jul 11 | 56 | $757/sf | 35 | 22 |
| Jul 18 | 51 | $741/sf | 38 | 24 |
| Jul 25 | 53 | $755/sf | 38 | 22 |
| Aug 1 | 46 | $736/sf | 36 | 29 |
| Aug 8 | 43 | $746/sf | 41 | 32 |
| Aug 15 | 37 | $775/sf | 37 | 34 |
| Aug 22 | 36 | $766/sf | 41 | 33 |
| Aug 29 | 34 | $750/sf | 40 | 39 |
| Sep 5 | 28 | $717/sf | 50 | 31 |
| Sep 12 | 31 | $736/sf | 52 | 29 |
| Sep 19 | 32 | $753/sf | 36 | 27 |
| Sep 26 | 31 | $726/sf | 39 | 28 |
| Oct 3 | 34 | $733/sf | 34 | 22 |
| Oct 10 | 30 | $729/sf | 36 | 27 |
| Oct 17 | 36 | $725/sf | 36 | 23 |
| Oct 24 | 39 | $723/sf | 39 | 24 |
| Oct 31 | 39 | $732/sf | 38 | 24 |
| Nov 7 | 40 | $782/sf | 39 | 25 |
| Nov 14 | 48 | $742/sf | 41 | 20 |
| Nov 21 | 51 | $740/sf | 46 | 18 |
The $1,500,000 – $2,000,000 Market:
| | | | | |
| --- | --- | --- | --- | --- |
| Date | NSDCC Active Listings | Avg. LP/sf | Avg. DOM | # of Pendings |
| Jan 3, 2022 | 8 | $842/sf | 52 | 36 |
| Jan 10 | 13 | $751/sf | 28 | 29 |
| Jan 17 | 16 | $736/sf | 33 | 27 |
| Jan 24 | 16 | $801/sf | 17 | 27 |
| Jan 31 | 15 | $696/sf | 14 | 34 |
| Feb 7 | 15 | $765/sf | 17 | 34 |
| Feb 14 | 10 | $726/sf | 19 | 38 |
| Feb 21 | 19 | $715/sf | 15 | 39 |
| Feb 28 | 9 | $660/sf | 12 | 46 |
| Mar 7 | 16 | $789/sf | 15 | 46 |
| Mar 14 | 17 | $837/sf | 8 | 44 |
| Mar 21 | 18 | $867/sf | 11 | 43 |
| Mar 28 | 14 | $838/sf | 15 | 48 |
| Apr 4 | 18 | $762/sf | 25 | 42 |
| Apr 11 | 23 | $774/sf | 15 | 39 |
| Apr 18 | 22 | $792/sf | 17 | 41 |
| Apr 25 | 18 | $810/sf | 20 | 41 |
| May 2 | 27 | $809/sf | 17 | 37 |
| May 9 | 33 | $837/sf | 17 | 46 |
| May 16 | 39 | $793/sf | 19 | 44 |
| May 23 | 43 | $793/sf | 22 | 44 |
| May 30 | 36 | $843/sf | 23 | 36 |
| Jun 6 | 43 | $817/sf | 23 | 41 |
| Jun 13 | 49 | $845/sf | 24 | 42 |
| Jun 20 | 57 | $817/sf | 24 | 41 |
| Jun 27 | 75 | $807/sf | 24 | 35 |
| Jul 4 | 70 | $827/sf | 27 | 33 |
| Jul 11 | 71 | $812/sf | 30 | 38 |
| Jul 18 | 74 | $793/sf | 32 | 35 |
| Jul 25 | 83 | $787/sf | 34 | 29 |
| Aug 1 | 81 | $780/sf | 35 | 31 |
| Aug 8 | 76 | $796/sf | 40 | 30 |
| Aug 15 | 80 | $789/sf | 42 | 38 |
| Aug 22 | 78 | $801/sf | 46 | 38 |
| Aug 29 | 81 | $811/sf | 51 | 40 |
| Sep 5 | 82 | $795/sf | 50 | 31 |
| Sep 12 | 78 | $796/sf | 53 | 29 |
| Sep 19 | 73 | $818/sf | 47 | 34 |
| Sep 26 | 75 | $795/sf | 45 | 33 |
| Oct 3 | 75 | $826/sf | 42 | 31 |
| Oct 10 | 69 | $853/sf | 45 | 27 |
| Oct 17 | 73 | $841/sf | 46 | 22 |
| Oct 24 | 72 | $857/sf | 45 | 27 |
| Oct 31 | 74 | $837/sf | 51 | 37 |
| Nov 7 | 69 | $840/sf | 51 | 37 |
| Nov 14 | 65 | $832/sf | 58 | 36 |
| Nov 21 | 62 | $829/sf | 54 | 31 |
The $2,000,000 – $3,000,000 Market:
| | | | | |
| --- | --- | --- | --- | --- |
| Date | NSDCC Active Listings | Avg. LP/sf | Avg. DOM | # of Pendings |
| Jan 3, 2022 | 18 | $1,080/sf | 127 | 43 |
| Jan 10 | 23 | $1,038/sf | 85 | 37 |
| Jan 17 | 26 | $1,044/sf | 80 | 41 |
| Jan 24 | 28 | $1,015/sf | 37 | 42 |
| Jan 31 | 22 | $949/sf | 38 | 47 |
| Feb 7 | 26 | $919/sf | 29 | 42 |
| Feb 14 | 22 | $997/sf | 37 | 49 |
| Feb 21 | 21 | $966/sf | 33 | 54 |
| Feb 28 | 26 | $905/sf | 32 | 57 |
| Mar 7 | 29 | $922/sf | 28 | 57 |
| Mar 14 | 20 | $852/sf | 26 | 58 |
| Mar 21 | 17 | $928/sf | 26 | 60 |
| Mar 28 | 34 | $927/sf | 12 | 65 |
| Apr 4 | 32 | $927/sf | 20 | 69 |
| Apr 11 | 44 | $910/sf | 17 | 62 |
| Apr 18 | 48 | $997/sf | 19 | 66 |
| Apr 25 | 42 | $1,092/sf | 18 | 73 |
| May 2 | 54 | $995/sf | 19 | 70 |
| May 9 | 61 | $910/sf | 20 | 73 |
| May 16 | 64 | $977/sf | 22 | 69 |
| May 23 | 82 | $953/sf | 25 | 59 |
| May 30 | 78 | $951/sf | 27 | 56 |
| Jun 6 | 94 | $963/sf | 27 | 58 |
| Jun 13 | 98 | $961/sf | 28 | 70 |
| Jun 20 | 91 | $935/sf | 32 | 59 |
| Jun 27 | 111 | $894/sf | 30 | 60 |
| Jul 4 | 112 | $910/sf | 33 | 60 |
| Jul 11 | 122 | $912/sf | 34 | 56 |
| Jul 18 | 103 | $893/sf | 39 | 68 |
| Jul 25 | 108 | $883/sf | 40 | 63 |
| Aug 1 | 110 | $887/sf | 41 | 58 |
| Aug 8 | 124 | $941/sf | 39 | 50 |
| Aug 15 | 114 | $945/sf | 45 | 51 |
| Aug 22 | 123 | $948/sf | 42 | 46 |
| Aug 29 | 125 | $938/sf | 46 | 45 |
| Sep 5 | 116 | $948/sf | 48 | 38 |
| Sep 12 | 110 | $908/sf | 49 | 43 |
| Sep 19 | 108 | $928/sf | 50 | 46 |
| Sep 26 | 106 | $926/sf | 51 | 45 |
| Oct 3 | 103 | $941/sf | 50 | 46 |
| Oct 10 | 109 | $987/sf | 50 | 42 |
| Oct 17 | 103 | $969/sf | 50 | 45 |
| Oct 24 | 100 | $953/sf | 52 | 51 |
| Oct 31 | 100 | $961/sf | 53 | 50 |
| Nov 7 | 97 | $960/sf | 54 | 47 |
| Nov 14 | 97 | $970/sf | 51 | 38 |
| Nov 21 | 96 | $975/sf | 54 | 33 |
The $3,000,000 – $4,000,000 Market:
| | | | | |
| --- | --- | --- | --- | --- |
| Date | NSDCC Active Listings | Avg. LP/sf | Avg. DOM | # of Pendings |
| Jan 3, 2022 | 19 | $1,230/sf | 90 | 26 |
| Jan 10 | 22 | $1,210/sf | 76 | 25 |
| Jan 17 | 19 | $1,207/sf | 86 | 23 |
| Jan 24 | 17 | $1,129/sf | 92 | 24 |
| Jan 31 | 21 | $1,172/sf | 70 | 22 |
| Feb 7 | 19 | $1,169/sf | 67 | 25 |
| Feb 14 | 19 | $1,234/sf | 65 | 28 |
| Feb 21 | 21 | $1,279/sf | 69 | 28 |
| Feb 28 | 22 | $1,214/sf | 64 | 25 |
| Mar 7 | 27 | $1,295/sf | 60 | 24 |
| Mar 14 | 27 | $1,201/sf | 65 | 27 |
| Mar 21 | 23 | $1,282/sf | 69 | 31 |
| Mar 28 | 25 | $1,253/sf | 67 | 30 |
| Apr 4 | 30 | $1,199/sf | 61 | 27 |
| Apr 11 | 32 | $1,174/sf | 62 | 31 |
| Apr 18 | 33 | $1,216/sf | 68 | 31 |
| Apr 25 | 33 | $1,219/sf | 63 | 33 |
| May 2 | 37 | $1,164/sf | 50 | 36 |
| May 9 | 33 | $1,132/sf | 57 | 32 |
| May 16 | 40 | $1,119/sf | 53 | 32 |
| May 23 | 40 | $1,135/sf | 57 | 27 |
| May 30 | 40 | $1,178/sf | 61 | 28 |
| Jun 6 | 43 | $1,224/sf | 56 | 28 |
| Jun 13 | 48 | $1,184/sf | 52 | 28 |
| Jun 20 | 52 | $1,117/sf | 53 | 26 |
| Jun 27 | 60 | $1,120/sf | 51 | 19 |
| Jul 4 | 55 | $1,127/sf | 58 | 23 |
| Jul 11 | 68 | $1,140/sf | 47 | 26 |
| Jul 18 | 66 | $1,206/sf | 52 | 25 |
| Jul 25 | 65 | $1,200/sf | 54 | 26 |
| Aug 1 | 59 | $1,191/sf | 60 | 26 |
| Aug 8 | 58 | $1,209/sf | 63 | 22 |
| Aug 15 | 59 | $1,166/sf | 62 | 21 |
| Aug 22 | 57 | $1,163/sf | 60 | 28 |
| Aug 29 | 53 | $1,168/sf | 64 | 31 |
| Sep 5 | 48 | $1,157/sf | 67 | 25 |
| Sep 12 | 50 | $1,215/sf | 67 | 27 |
| Sep 19 | 46 | $1,196/sf | 74 | 26 |
| Sep 26 | 42 | $1,200/sf | 82 | 20 |
| Oct 3 | 42 | $1,216/sf | 78 | 20 |
| Oct 10 | 38 | $1,154/sf | 62 | 18 |
| Oct 17 | 34 | $1,171/sf | 73 | 20 |
| Oct 24 | 41 | $1,148/sf | 69 | 14 |
| Oct 31 | 36 | $1,110/sf | 79 | 14 |
| Nov 7 | 37 | $1,100/sf | 76 | 9 |
| Nov 14 | 39 | $1,114/sf | 77 | 6 |
| Nov 21 | 38 | $1,089/sf | 78 | 7 |
The $4,000,000+ Market:
| | | | | |
| --- | --- | --- | --- | --- |
| Date | NSDCC Active Listings | Avg. LP/sf | Avg. DOM | # of Pendings |
| Jan 3, 2022 | 100 | $1,884/sf | 128 | 30 |
| Jan 10 | 105 | $1,864/sf | 113 | 29 |
| Jan 17 | 109 | $1,763/sf | 110 | 34 |
| Jan 24 | 105 | $2,130/sf | 114 | 42 |
| Jan 31 | 102 | $2,114/sf | 118 | 53 |
| Feb 7 | 109 | $2,000/sf | 108 | 50 |
| Feb 14 | 108 | $2,005/sf | 109 | 47 |
| Feb 21 | 113 | $2,008/sf | 103 | 43 |
| Feb 28 | 111 | $1,991/sf | 101 | 47 |
| Mar 7 | 115 | $1,904/sf | 91 | 39 |
| Mar 14 | 121 | $1,893/sf | 95 | 43 |
| Mar 21 | 116 | $1,905/sf | 97 | 44 |
| Mar 28 | 104 | $1,966/sf | 97 | 59 |
| Apr 4 | 103 | $1,929/sf | 97 | 56 |
| Apr 11 | 106 | $1,906/sf | 97 | 55 |
| Apr 18 | 108 | $1,874/sf | 100 | 51 |
| Apr 25 | 116 | $1,829/sf | 97 | 38 |
| May 2 | 117 | $1,781/sf | 95 | 32 |
| May 9 | 116 | $1,831/sf | 96 | 36 |
| May 16 | 124 | $1,854/sf | 91 | 39 |
| May 23 | 125 | $1,855/sf | 92 | 36 |
| May 30 | 129 | $1,706/sf | 93 | 39 |
| Jun 6 | 131 | $1,740/sf | 89 | 33 |
| Jun 13 | 132 | $1,793/sf | 86 | 38 |
| Jun 20 | 148 | $1,772/sf | 84 | 35 |
| Jun 27 | 153 | $1,779/sf | 87 | 29 |
| Jul 4 | 155 | $1,777/sf | 82 | 25 |
| Jul 11 | 164 | $1,759/sf | 85 | 26 |
| Jul 18 | 170 | $1,740/sf | 86 | 26 |
| Jul 25 | 178 | $1,701/sf | 84 | 27 |
| Aug 1 | 180 | $1,696/sf | 85 | 28 |
| Aug 8 | 173 | $1,715/sf | 91 | 24 |
| Aug 15 | 168 | $1,746/sf | 89 | 32 |
| Aug 22 | 160 | $1,718/sf | 92 | 29 |
| Aug 29 | 165 | $1,732/sf | 93 | 28 |
| Sep 5 | 162 | $1,745/sf | 95 | 26 |
| Sep 12 | 152 | $1,715/sf | 96 | 29 |
| Sep 19 | 155 | $1,727/sf | 97 | 28 |
| Sep 26 | 157 | $1,728/sf | 97 | 27 |
| Oct 3 | 150 | $1,701/sf | 96 | 27 |
| Oct 10 | 153 | $1,711/sf | 103 | 29 |
| Oct 17 | 152 | $1,675/sf | 101 | 25 |
| Oct 24 | 156 | $1,697/sf | 102 | 24 |
| Oct 31 | 157 | $1,701/sf | 107 | 22 |
| Nov 7 | 156 | $1,682/sf | 109 | 22 |
| Nov 14 | 154 | $1,680/sf | 113 | 22 |
| Nov 21 | 155 | $1,682/sf | 113 | 22 |
NSDCC Weekly New Listings and New Pendings
| | | | | |
| --- | --- | --- | --- | --- |
| Week | New Listings | New Pendings | Total Actives | Total Pendings |
| Jan 3, 2022 | 17 | 14 | 152 | 164 |
| Jan 10 | 39 | 18 | 167 | 142 |
| Jan 17 | 34 | 29 | 179 | 145 |
| Jan 24 | 41 | 40 | 173 | 157 |
| Jan 31 | 43 | 40 | 173 | 182 |
| Feb 7 | 43 | 38 | 179 | 179 |
| Feb 14 | 44 | 49 | 168 | 193 |
| Feb 21 | 51 | 38 | 180 | 197 |
| Feb 28 | 39 | 39 | 179 | 205 |
| Mar 7 | 54 | 37 | 191 | 195 |
| Mar 14 | 48 | 51 | 195 | 196 |
| Mar 21 | 39 | 46 | 178 | 207 |
| Mar 28 | 53 | 50 | 185 | 224 |
| Apr 4 | 46 | 40 | 190 | 220 |
| Apr 11 | 61 | 39 | 221 | 213 |
| Apr 18 | 41 | 46 | 224 | 212 |
| Apr 25 | 50 | 43 | 224 | 205 |
| May 2 | 76 | 37 | 256 | 196 |
| May 9 | 59 | 46 | 262 | 207 |
| May 16 | 78 | 48 | 286 | 200 |
| May 23 | 61 | 42 | 312 | 192 |
| May 30 | 54 | 44 | 307 | 183 |
| Jun 6 | 70 | 31 | 338 | 183 |
| Jun 13 | 60 | 41 | 354 | 202 |
| Jun 20 | 71 | 25 | 388 | 177 |
| Jun 27 | 73 | 26 | 433 | 159 |
| Jul 4 | 55 | 39 | 432 | 158 |
| Jul 11 | 55 | 24 | 471 | 161 |
| Jul 18 | 49 | 35 | 459 | 168 |
| Jul 25 | 60 | 20 | 480 | 158 |
| Aug 1 | 55 | 35 | 473 | 161 |
| Aug 8 | 40 | 32 | 466 | 151 |
| Aug 15 | 51 | 32 | 451 | 168 |
| Aug 22 | 43 | 29 | 445 | 166 |
| Aug 29 | 43 | 27 | 449 | 175 |
| Sep 5 | 31 | 22 | 432 | 144 |
| Sep 12 | 38 | 22 | 415 | 151 |
| Sep 19 | 45 | 26 | 405 | 155 |
| Sep 26 | 45 | 27 | 402 | 149 |
| Oct 3 | 46 | 19 | 396 | 143 |
| Oct 10 | 40 | 26 | 391 | 140 |
| Oct 17 | 37 | 19 | 393 | 134 |
| Oct 24 | 50 | 26 | 402 | 139 |
| Oct 31 | 26 | 19 | 399 | 144 |
| Nov 7 | 37 | 16 | 393 | 136 |
| Nov 14 | 36 | 16 | 396 | 118 |
| Nov 21 | 32 | 18 | 393 | 108 |