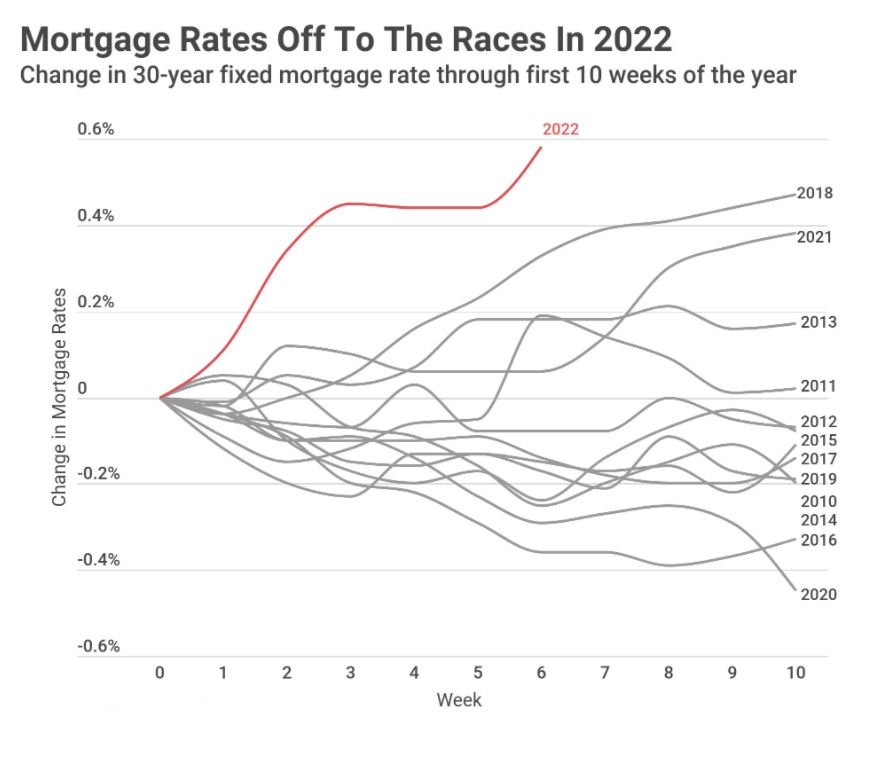 The Super Bowl is complete, and the spring selling season begins today!
Judging by the quick jump in the total number of pendings, homebuyers aren't waiting around. Mortgage rates have risen faster than any time in the last dozen years, and the number of homes for sale is scary low:
There was heavy activity over the weekend, and on the hot buys, the offers seemed to be starting at 10% over the list prices – which is now the new normal.  Waiving contingencies and giving sellers free rentbacks for 60 days will be part of the landscape for the next few months.
Will rising rates cool off the market? Only for those who are on the fringes and sensitive to payment shock. The affluent – the buyers who are controlling the market – are less impacted, and a measly 1% rise in your loan rate only changes the payment by $1,116 per month on a $2,000,000 mortgage.
How long will the 2022 frenzy last?
It should stay hot until one of the following happens:
Mortgage rates hit 5%
A flood of inventory
Mid-summer
By summertime, the pool of highly-motivated buyers should be diminishing, and we'll be left with those who haven't been willing to pay these prices. Remember that when you see another crazy-high sales price, there was only one buyer who was willing to pay that much – the rest all wanted to pay less!