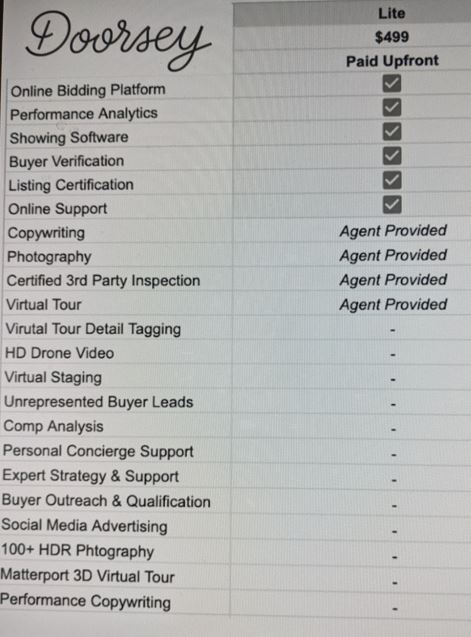 I had a good conversation this week with the people at Doorsey, and they are well on their way to providing a sharp and effective online home auction platform that could change how homes are sold.  If/when Zillow buys them and provides online auctions nationwide, agents will be wondering what happened.
This article is from November:
https://www.spokesman.com/stories/2021/nov/05/spokane-based-online-real-estate-platform-doorsey-/
Excerpts:
Doorsey, an online real estate platform founded by a group of Spokane entrepreneurs, launched this week and secured $4.1 million in a seed funding round.
Founded by Jordan Allen, Nick McLain and Matt Melville, Doorsey is an online bidding platform they say takes the guesswork out of buying a home by providing real estate agents with real-time home prices and upfront sales terms and disclosures.
"Today's home-buying offer process is rife with frustrations for all parties," Allen said in a statement. "Buyers and their agents want to know whether their offer can win. Sellers and their agents want to know they're getting the best offers. And agents want to close more deals in less time.
"Doorsey solves this by allowing sellers to define upfront what it takes to win, so that buyers can compete on a level playing field and sellers can find the right buyers."
The co-founders sought input from the local real estate community and subsequently evolved the online platform into Doorsey, which provides buyers with such things as access to home-inspection reports, sale contingencies, photos, a 3D virtual tour via Matterport and a community forum for interacting with sellers and neighbors.
Buyers can also schedule showings and view desired closing dates on the platform.
Doorsey's listings are posted on the Spokane Multiple Listing Service and distributed through national real estate websites, including Zillow, Trulia, Redfin and Realtor.com.
Doorsey has obtained $4.1 million in seed funding – an early stage of capital investment in startups – allowing it to build-out its product, hire more employees and expand to key markets nationwide within two years, according to the company.
The funding round was led by 166 2nd Financial Services with participation from Agya Ventures, Liquid 2 Ventures and SRM Development, among other investors.
Former NFL quarterback Joe Montana is a managing partner of San Francisco-based Liquid 2 Ventures, while 166 2nd Financial Services is led by former WeWork CEO and co-founder Adam Neumann.