When the coronavirus shut down the economy coast to coast, it was natural to assume that the real estate market would take a hit. Being in quarantine would certainly cause sales to plummet, and with 20% to 30% unemployment, prices would follow, right?
All that was left was to guess how much prices would go down.
But a funny thing happened on the way to the apocalypse.
The Fed poured $7 trillion+ into the economy, and mortgage rates hit all-time lows, which provided just enough levitation support that those aggravated by the quarantine shrugged off the virus and started buying homes again.
But sellers didn't get the memo, and our supply has suffered – but not prices:
NSDCC Listings Between Jan 1 and June 15
| | | |
| --- | --- | --- |
| Year | Number of Listings | Median List Price |
| 2016 | 2,748 | $1,425,000 |
| 2017 | 2,511 | $1,426,900 |
| 2018 | 2,481 | $1,500,000 |
| 2019 | 2,526 | $1,560,000 |
| 2020 | 2,054 | $1,695,000 |
With fewer comps and less competition (listings down 19% YoY), the list prices have been rising!
The lower rates are helping figuratively, more than literally – the ego loves the thought of getting the lowest rate in history.  Compared to last May, the actual benefit is $60 per month per $100,000 of loan, which adds up but jumbo rates are higher and we've already been used to having really low rates so today's record lows aren't the only thing fueling the comeback.
The spring season was already shaping up to be very positive, so the compression of the entire session into the next 2-3 months is what's driving the demand.  As long as people are feeling relatively safe, we should be seeing elevated statistics just because of the compression – which may give sellers a false sense of security that any price will work.
The lack of competition is a seller's best friend: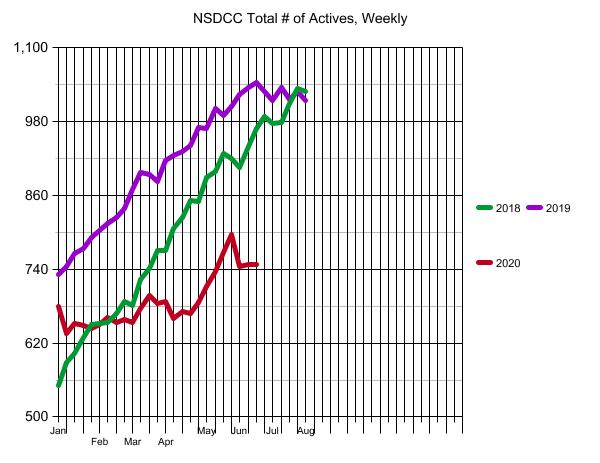 The motivated buyers – which now include the additional demand from folks who now have to work out of the house, instead of an office – are seeing so few of the new listings that meet their needs that if they see a hot one, they pay whatever it takes – and bidding wars are back.  Here's a sample of home sales in Carmel Valley and Southeast Carlsbad between $1,200,000 and $1,500,000 that have closed escrow in the last 30 days (during the corona):
Ten of the 24 sales closed OVER list price, and the average SP:LP ratio is 100%!
While this is the modest end of the range for both areas, homes in the $1,200,000 to $1,500,000 range still cost a ton of money – yet virtually no discount on price, even during the coronavirus!