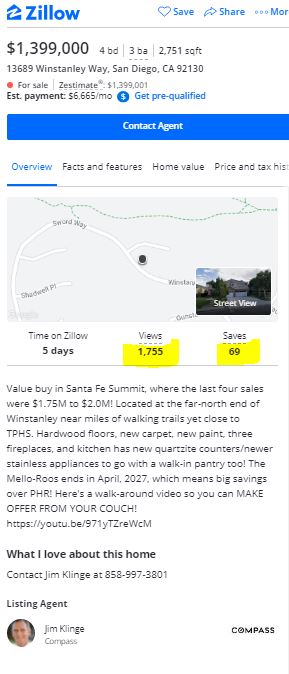 Our reader elbarcosr agreed that it's easy to get page views with everyone sitting at home on the computer anyway these days. Here are today's counts of our Winstanley listing:
Zillow: 1,755
YouTube: 1,326
Facebook ad: 1,451
The Facebook ad was responsible for 840 of the YouTube views, which means the MLS and the blog accounted for 486 views.  The blog views have been running around 100 per video, so almost 400 views of the video tour came from potential buyers who saw it in the MLS remarks or on one of the search portals.
It makes you think potential buyers don't mind previewing a home by video!
We had about 15 showings in person, and three written offers.
The three original bathrooms were enough for most buyers to pass altogether in a very conservative environment these days.  I think I could have sold it 3-4 times if the house was completely turnkey. But you can only sell it once, so balancing the investment vs return is a critical step.
These results are about what I was expecting before the covid-19.
Mostly-renovated houses in desirable neighborhoods on the lower-end of the range are still going to attract significant interest.  Play your cards right, and you can still sell in the first five days on the market.
Get Good Help!