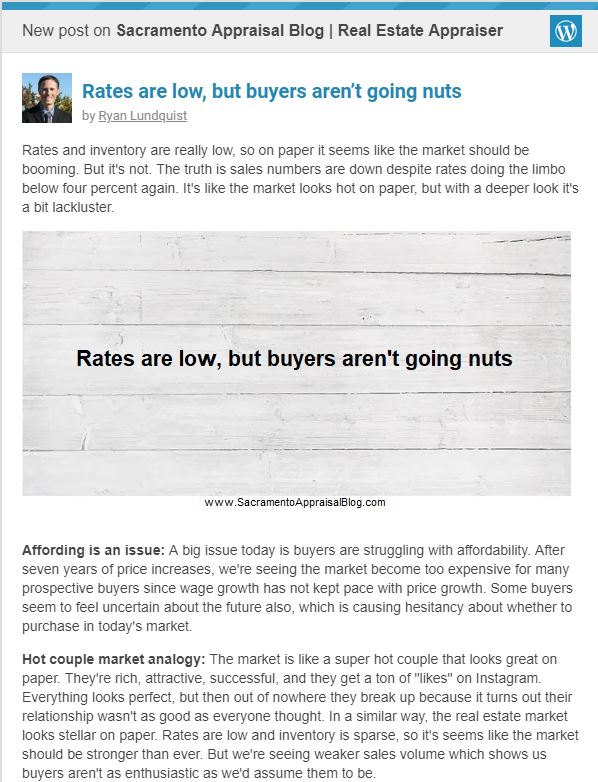 Ryan is probably the most similar blogger to me because he's in the business and sees what is actually happening on the street.  He does a ton of charts and graphs, so if you're analytical give his blog a look:
www.sacramentoappraisalblog.com
He sums up his current market conditions quite well with these thoughts:
Normal: The market felt really dull last year, but it's been a somewhat normal year so far in 2019. There are certainly concerns about affordability, but from a stats perspective it's been a pretty standard first half of the year. Pendings continue to be strong also, so buyers still clearly have a strong appetite for the market.
14 months in a row of slumping volume: Despite mortgage rates being low we're seeing somewhat sluggish sales volume. In fact, sales volume was down 11.6% in the region last month and it's down 8.6% so far in 2019. Moreover, we've had fourteen months in a row with lower sales volume compared to the previous year. In my mind it's still best to say we're having a slower year instead of a volume meltdown because levels aren't alarmingly low by any stretch. Let's watch this carefully.
Dude, rates will never get below 4% again: It's been a little surprising to see how low rates have gone again, right? The narrative for a while was, "Dude, they'll never go below 4% again. We've bottomed out." Yet here we are. My sense is if rates keep going down it'll only increase competition and artificially inflate prices. That would be temporarily nice for buyers, but an unfortunate byproduct is low rates in a wider picture tend to create less incentive for sellers to move. Why sell if you're sitting on a 3.5% mortgage rate?
Purplebricks & the tech invasion: Last week it was announced that Purplebricks will be exiting the United States housing market after a 75% loss in shares. This company is going to the grave in the U.S., but the reality is we're still in a market where tech companies are trying to disrupt the traditional real estate model. Next up? Zillow is said to be coming to Sacramento by the end of the year.
Joe Montana's $49M overpriced listing: Former Quarterback Joe Montana listed his property for $49M and it didn't sell because it was profoundly overpriced. In fact, the price has now been reduced to $28M. Many sellers are like Joe in trying to attract mythical unicorn buyers who will mysteriously overpay for some reason. My advice? Be aware that today's buyers are incredibly picky about paying the right price.
The dream of selling at the top: I met a guy who wants to sell because he says the market might top out soon. His concern is a friend sold two years ago thinking the market was at its peak, but it wasn't. The truth is it's not so easy to time a market perfectly. We talk about how simple it is to do this, but most people pull it off from dumb luck more than anything. The reality is the bulk of buyers don't buy based on price metrics, but rather lifestyle and affordability.
My thoughts on his thoughts:
The first time mortgage rates went under 4%, it did spark a mini-frenzy because no one had seen that before.  Those who moved up – or refinanced – were able to mitigate their payment shock with a lower rate than they had before.  But now the sub-4% rates are a yawner for those who already have them, and as a result, we're not seeing the same enthusiasm we saw previously.
I'll add a bit to his thoughts on Joe's mansion.  Are buyers being extremely picky? Yes, absolutely, yet it's more about finding the perfect house than the perfect price.  Once buyers find a great fit, they will pay whatever it takes.  I saw a starter home in Carlsbad yesterday get four offers over list price, which will make it the most expensive sale for that model ever. But it was also a great location and house was dialed in.
Selling at the top used to be a big driver for decision-making back in the old days.  But the market is so tight today that you can't just go out and replace a quality home without a real struggle.  Now, selling at the top is only one of the criteria for home sellers, and it's dropped down the list for most.
Ryan has more thoughts and graphs here: