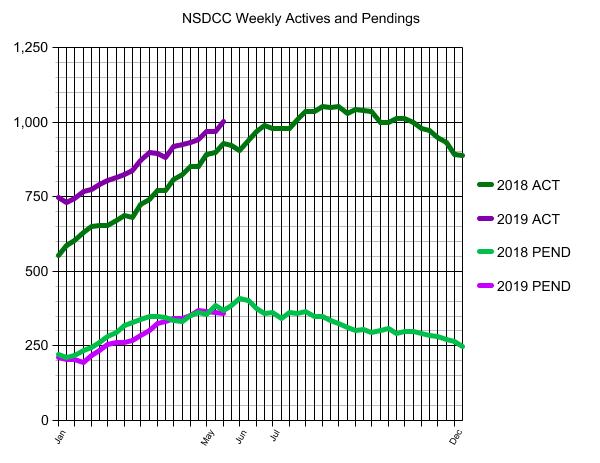 Here's a visual comparison of last year's counts of NSDCC weekly active and pending listings, and how we are doing this year.
Mortgage rates had bumped up from 4.47% in April to 4.83% in October, but the inventory kept growing too, which didn't help.  The pendings are a better gauge than sales for showing when the buying decisions were being made, and you can see that last year, buyers started losing interest after mid-June.
The bulging inventory in the second half of 2018 also left us with an inventory hangover.  We started the year with 35% more homes on the market than the previous year, which led to a slower start in 2019.
But the weekly pendings have strengthened lately, and have been tracking about the same counts as we had in 2018 – probably due to lower rates.  Last month, the Freddie Mac average 30-year rate was 4.14%.
If rates stay the same as they are today, we really should see the season extend past June – because it got whacked last year.  But high pricing and more inventory could spoil the momentum too.