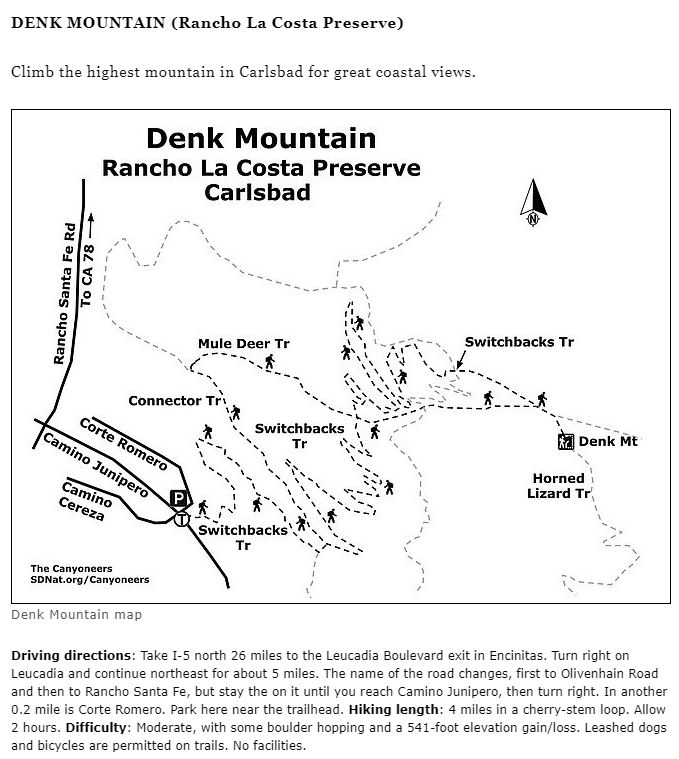 From the Reader:
Denk Mountain is the unofficial name of the highest point in the City of Carlsbad. It may be a little presumptuous to call it a mountain, but at 1041 feet of elevation, it is high enough to offer dramatic views up and down the San Diego coast, especially west to where the Batiquitos Lagoon discharges into the Pacific.
The name honors the Denk family, who once owned much of the land that is now the Rancho La Costa Preserve, which is owned and managed by a non-profit, the Center for Natural Lands Management (tax deductible donations are appreciated). If you are a mountain biker and don't already know about these trails, you should definitely check it out.
The preserve has over 6 miles of trails, some of which are very challenging. It can be a pleasant hike or trail run for anyone in moderately good physical condition. Many trails of varying difficulty lead to the peak. The route described here is only one of several possibilities.
The trails are open year-round from dawn to dusk, but the best times to go are mornings between January and June, preferably after a storm has left the area with clear air and perhaps some dramatic clouds.
Warning: rattlesnakes live here. Also, it is a very active mountain biking area. While hikers have the right-of-way, you should do whatever you need to do to avoid a collision with a rapidly moving bicycle. There is no shade, and the hillside tends to face toward the sun. Bring trekking poles if you have them, as they will be useful at times.
Link to Full Article