It may feel like a slowdown, but houses are still selling! By the time every agent reports their July sales, we should be up to at least 275 sales for 2018:
NSDCC July Sales
| | | | | |
| --- | --- | --- | --- | --- |
| Year | July # of Sales | Avg. $$/sf | Median Sales Price | Avg. Days on Market |
| 2014 | 271 | $451/sf | $1,018,000 | 46 |
| 2015 | 321 | $458/sf | $1,025,000 | 41 |
| 2016 | 270 | $504/sf | $1,105,000 | 34 |
| 2017 | 260 | $529/sf | $1,243,250 | 45 |
| 2018 | 261 | $534/sf | $1,285,000 | 42 |
The pricing increases have settled down, so if sellers don't mind selling for about what the last guy got, they should be ok.  Or if they have something special, there might still be a chance at a frenzy!
~~~~~~~~~~~~~~~~~~~~~~~~~~~~~~~~~~~~~~~~~~~~~~~~~~~~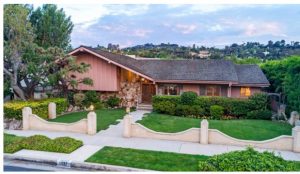 Link to Brady story
Like the rest of us, former *NSYNC singer Lance Bass just isn't ready to say — cue the music — "Bye, Bye, Bye" to the "Brady Bunch" house. The boy band legend is reportedly one of at least five bidders vying for a chance to buy the iconic house used to portray the home on the popular 1970s family show.
The house hit the market this month for the first time since 1973, and its owners are hoping to attract a buyer who will preserve the piece of Americana rather than tear it down, a real threat in the Studio City neighborhood where developers routinely tear down and rebuild.
According to Douglas Elliman realtor Ernie Carswell, five bidders got offers in before the midnight deadline Tuesday.
"We're not going to accept the first big offer from a developer who wants to tear it down," Carswell told the Los Angeles Times.
Bass hopes he's the buyer they are looking for.
"I'm obviously obsessed with 'The Brady Bunch.' I mean, I grew up watching that show. Reruns!" Bass said on the "Big Brother" show "Off the Block."
He said he plans to truly make it the Brady Bunch house.
"I'm going to turn it into the TV house, because you know it doesn't have a second floor and all that kinda stuff, but I'm going to go back to the original, original house," he said.
Listed at $1,885,000, the two-bedroom home is billed as America's second most photographed home behind the White House.
Situated in Studio City's Colfax Meadows, the home boasts a gated motor court and two master suites. According to records, Violet and George McCallister bought the house for $61,000 in 1973 when the "Brady Bunch" was still airing. While the interior never served as a set for the show, the home is like a time capsule, with decor unchanged since the early '70s. It has a wet bar, a tall stone fireplace and a master bedroom with wall-to-wall hot pink Toile de Jouy wallpaper and matching bedspread.
Link to listing